Coronavirus
Emmbrook residents can rightly be proud of how they have responded in these difficult circumstances, as COVID-19 restrictions have changed our lives and restricted how we engage as a community. There are many individual examples of how the community has pulled together to help those who are more vulnerable and unable to get out for exercise or provisions. For those able to get out for a bit of exercise, it has been great to see how our new local park areas and wider pavements (in some places) have helped with managing social distancing. These times go to demonstrate the importance of strong communities, and we encourage everyone to continue doing what they can to help friends and neighbours, especially those who are on their own or from vulnerable groups. It could be a bit of shopping, help with collecting medication or simply a chat on the phone. The ERA has been posting advice and ways to help, from the council and local police, on the website and/or Facebook and we will continue to post any relevant updates. Stay safe everyone and we look forward to a time when things are more normal again.
WBC COVID-19 support services:
Wokingham Borough Council have published the following to explain the support available from themselves, community groups and health and government agencies during this COVID-19 pandemic.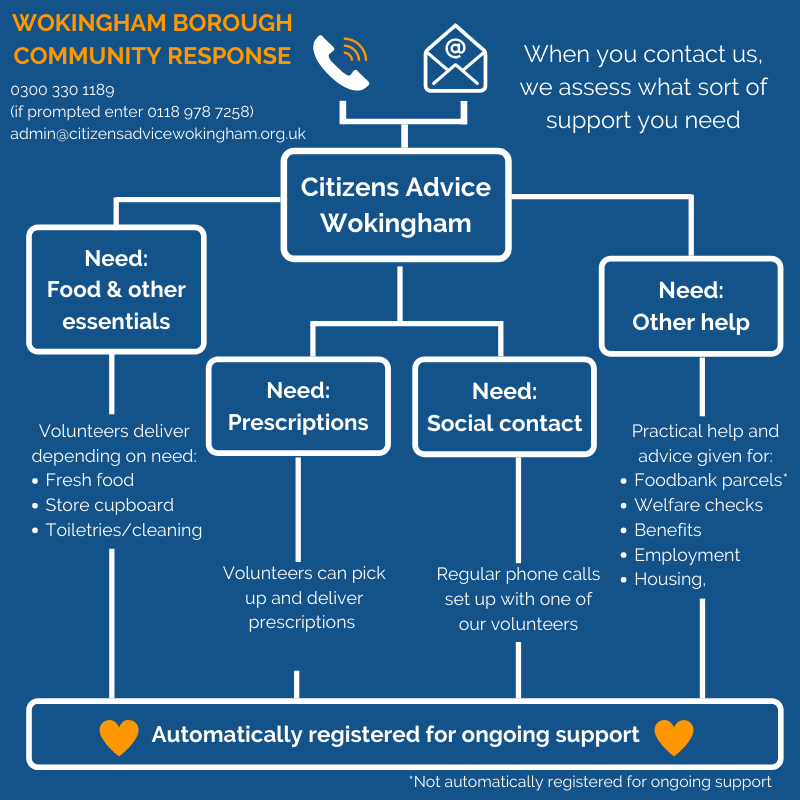 In these fast moving circumstances, and with the lockdown now extended, it will show you where you can get advice, and how council services are changing. The aim is to give you the most up-to-date information you need to keep you and your family safe.
Further details can be accessed via WBC website (https://www.wokingham.gov.uk/health/public-health-campaigns/how-coronavirus-covid-19-is-affecting-our-services/)
The Emmbrook School – conversion to Academy status
The school has commenced a consultation with stakeholders (parents, teachers, local residents, etc) on their plans to join a Multi-Academy Trust (The Circle Trust).
Parents have already been contacted by the school, but those without children at the school can find details about the plans and how to contribute to the consultation on the schools website. Consultation responses can be made by email to the school.
Quiz Night
Our Quiz Night planned for Saturday 14 March 2020 has been cancelled due to the COVID-19 outbreak. Watch this space for a new date once we get back to normal.
Matthewsgreen Community Liaison Meeting
Committee members from both ERA and JPRA, along with representatives from the new Matthewsgreen development, attended a quarterly liaison meeting with the developers (Bovis and Linden Homes).  This is an opportunity for the developers to update us on their plans and to discuss concerns or issues affecting local residents.  Details have been updated on relevant parts of our website, but key aspects discussed were:
Housing numbers – revised number for the development is 772
Bovis & Linden Homes announced they merged on 4 Jan 2020 to form Vistry Group.  They will continue to trade as Bovis and Linden Homes.
Twyford Road Roundabout – trees to be replaced during February (works are underway)
Playpark – design for the new playpark in the centre of the development is currently pending WBC approval.  Subject to approval, target completion is early summer 2020.
Gateway service company – many new residents have raised concerns about the performance of the service company appointed to maintain the communal areas of the new development.  Bovis are investigating further.
Local centre – It is confirmed there will be 3 commercial units, with the tenant for the main convenience store to be announce shortly.
Phase 1b (small plot at junction of Toutley Road and Queen's Road) – Bovis have advised development of this site has been postponed for several months, but they will hoard the site in the meantime (works ongoing)
The next meeting is planned for 29 Apr 2020, although we expect that to be delayed until COVID-19 restrictions are lifted.  In the meantime, please do highlight any matters you feel should be raised at the meeting by ERA.
Community Forum
The last forum was held on 22 Jan 2020.  Those residents who attended will have seen presentations on: the new NDR (including a fly-by of the approved route), the new junior school and community centre, Cantley Park development and proposed upgrading of the Toutley Depot site.  The presentations were then followed by Q&A session on a number of topics.