MAY 2023
Below are the minutes of the Annual General Meeting of the Emmbrook Residents Association held at the Emmbrook Village Hall in May 2023, including text of the report delivered by the committee at the meeting.
Welcome – Pierre Featherbe
I would like to welcome and thank those attending our Seventeenth AGM.
A bit of housekeeping. The toilets are left for ladies and right for gents. Should the fire alarm sound then please make your way outside to Corfield Green.
Attendance
6 ERA members and 6 ERA committee members attended the AGM.
4 apologies for absence were received.
Approval of our previous AGM report held on May 2022
The report, which had been made available on our web site, was proposed, seconded and approved.
This AGM report will be presented by the committee on the areas they cover.
Planning – Bob Millen.
Planning Applications:
On the planning application front things have not changed much from last year.  The outline planning application (reported last year) for 130 dwellings plus a 70 bed care home on Council owned land to the east of Toutley Depot has now been approved in principle. The Council's development team have decided to proceed by breaking down the construction of the development into 3 phases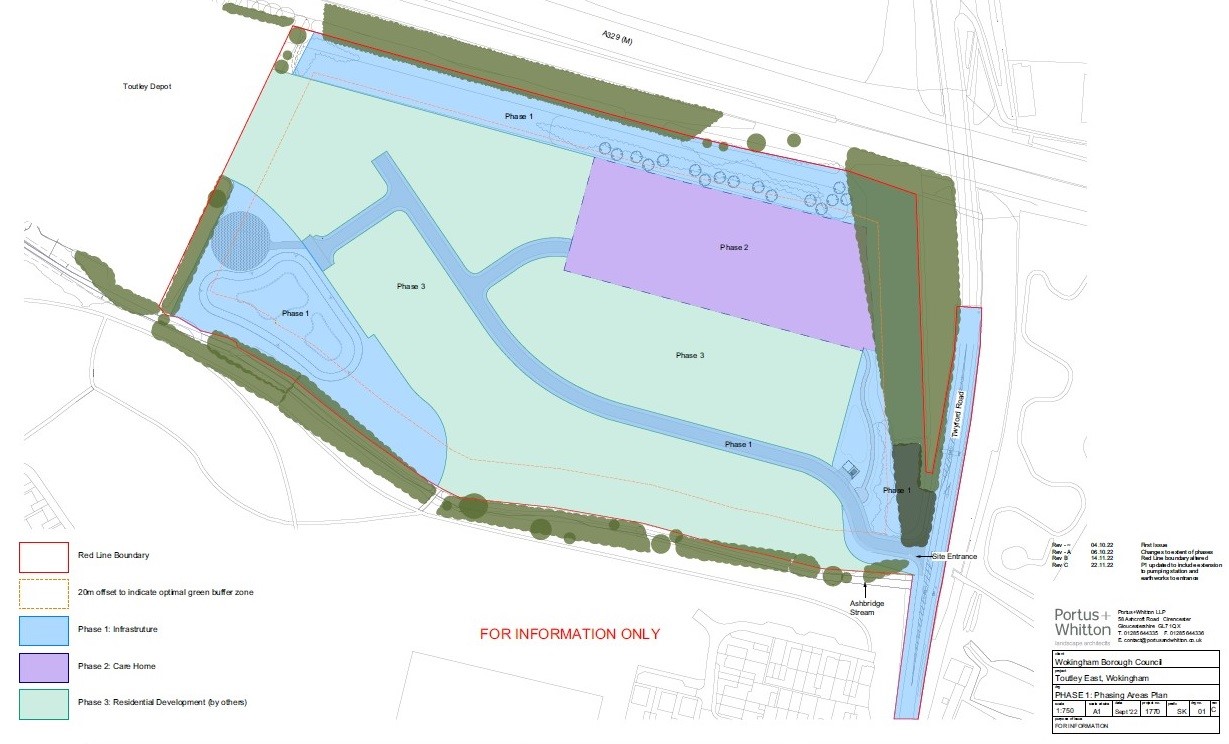 Phase 1 includes the construction of the access way onto the A321 and the spine road within the site, the ground and flood alleviation works, and the installation of the main services. Phases 2 and 3 would then cover the construction of the care home and the dwellings respectively with each phase covered by its own planning application. The Phase 1 application has already been submitted and is awaiting approval.
The only other significant application is for the rebuild of Toutley Depot, which was raised in 2019 and approved in February 2020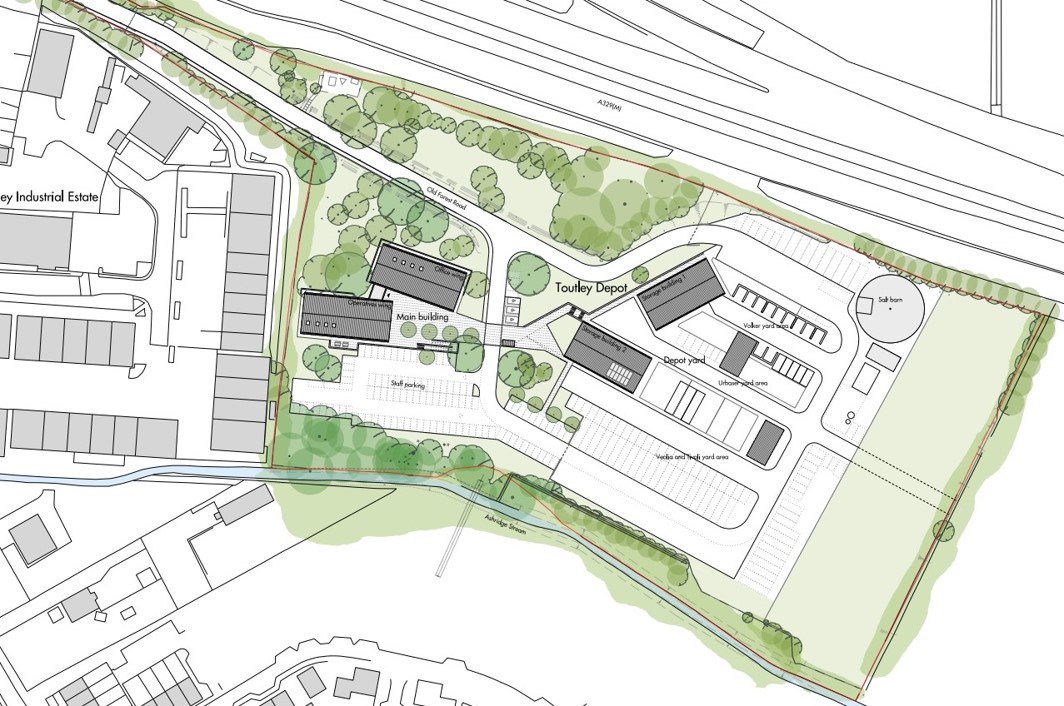 The plan here is to construct 2 buildings on the grassed area to the west of the exiting car park to house the offices and welfare services, with the phased demolition and replacement of the existing structures to follow. We were told that the work on this plan was stopped due to Covid but is now to be resumed with the main contractor due on site this month, although a recent site visit failed find any evidence of work commencing.
Local Plan Update:
Regarding the Local Plan Update, progress has come to a virtual stop waiting for the Government to decide on the overarching principles that would govern development.  In 2020 they consulted on a White Paper, Planning for the Future, which proposed a range of significant changes that would have had a fundamental impact on the way the planning system worked. It now seems that they have abandoned this approach and they never published the results of this consultation. However, in December last year they published a new consultation on their Levelling Up and Regeneration Bill which contained proposed revisions to the National Planning Policy Framework (NPPF). We are told that the outcome of this latest consultation should have been released by now, and lack of direction from the Government is holding up the development of the Local Plan Update. We understand that councillors are in something of a predicament here as if they were to continue discussing the Local Plan the developers may use this as an opportunity to accuse them of predetermining what it contains.
Old Forest Road:
For many years we have been pressing the Council to reduce the speed limit on Old Forest Road from 40 to 30 mph. Although the Council have on the whole been amenable to the idea the Thames Valley Police have refused to endorse it. The Council could have reduced the limit without this endorsement but they were reluctant to do so. However, the TVP have recently withdrawn their objection, presumably as the north eastern section of the OFR now forms part of the 30mph section of the NDR and the NDR now takes most of the traffic that use to use the OFR. Thus the way is now clear to reduce the remaining section of the OFR from Ashton Road to the Reading Road to 30mph, and the Council are in the process of raising a Traffic Regulation Order to do so.
Schools liaison – Chris Mallett
The ERA considers the presence of schools, at the heart of our community, is an important contribution to the character of Emmbrook; which makes the village fairly unique with the Wokingham Borough.  We are very fortunate to have access to schooling from nursery provision all the way through to the Sixth Form.
During the last year we have seen quite a number of changes to our local schools:
Emmbrook Infant & Junior Schools have agreed to join the Circle Trust alongside The Emmbrook Secondary School, who joined a few years ago. This is expected to formally happen this summer.
The Circle Trust are also consulting on establishing new nursery provision to replace the independent nursey currently operating out of the Infant school.
The Emmbrook Secondary school has announced expansion plans, including the construction of a new Sixth Form block and new admin building. Let's take a quick look at the plans.
And not forgetting a new primary school, St Cecilia's Church of England Primary School, has opened. Initially this has been for KS2 children (ages 7 – 11) but it is expected to open to all students in Sep this year.
We continue to explore opportunities to work with all the schools.  The Infant and Junior Schools have again supported with refreshing planting in Corfield Green, with additional planting being funded by the ERA, and we hope to do some more this year.  Over the years it has been nice to see how well Corfield Green is used by residents, gathering after school drop-off or pick up, or people just taking a rest on the bench.
This year we are hoping to progress with the Secondary School a project we spoke about at the last AGM; creating a sculpture trail in Emmbrook Walk and Emmbrook Meadows.
We have also recently had positive discussions with the new head of St Cecilia's Primary School about getting involved with the school as they grow and develop.  Whilst the school is just outside our specific catchment area we expect the school to develop as an important part of the wider Emmbrook community.
We are hoping the attached community centre will be opening soon, and there is a possibility the trust operating the school could also be operating the new community centre.  WBC are also investigating the possibility of Wokingham Town Council taking on that responsibility instead.  We are pushing WBC to make a decision ASAP.
Here's a quick look at the school and community centre building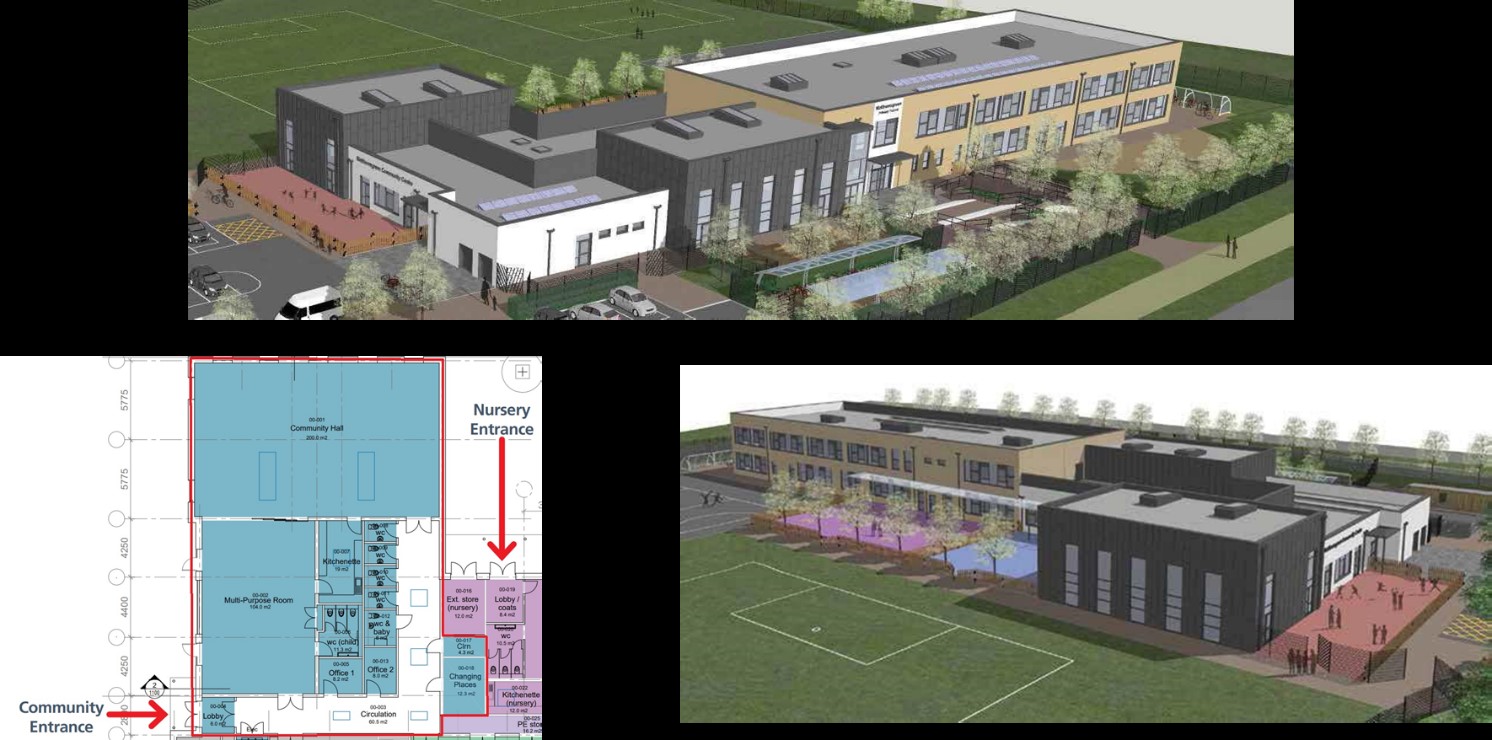 Other Residents committees – Chris Mallett
During the year we have had several meetings with our neighbouring residents' groups – Joel Park Residents Association and Emmbrook Place Community Group.
As a reminder, here is how the catchment areas are split up.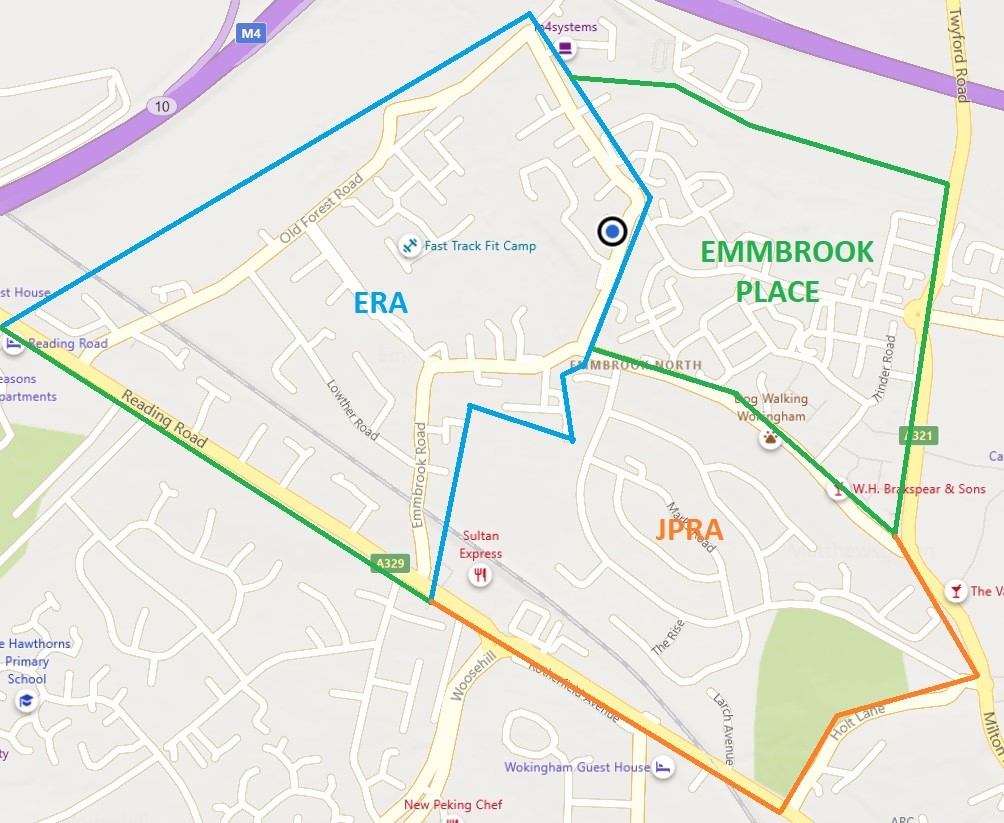 The meetings have been helpful in sharing experiences and ideas on a number of community issues, including:
Liaison with local schools
Opening of the new community centre
Crime and anti-social behaviour
Traffic volume and speed surveys
New developments (East of Toutley and Toutley Depot)
Greenways through Joel Park
Bus services
We have also encouraged local councillors to attend these meetings, so they can hear residents' experiences first-hand and also to help with getting feedback on various matters.  We have certainly seen an improvement in the transfer of information, but that is not always the case so we will continue to push our representatives for more and faster feedback.
JPRA is currently in transition as their long-standing chair, Steve Sansom, stepped down at the start of this year.  They are still to choose a new chair or decide how to proceed.  In the meantime, we will continue to work with their representatives.
The Emmbrook Place community continues to grow as new houses are occupied, and their representative Joanne Parker has reported that engagement with new residents has continued to increase rapidly.
We expect the interests of residents and issues facing residents in Emmbrook Place will increasingly align with those from ERA and JPRA and it will become even more important for us to cooperate together on all community matters.
The history of Emmbrook – Peter Shilham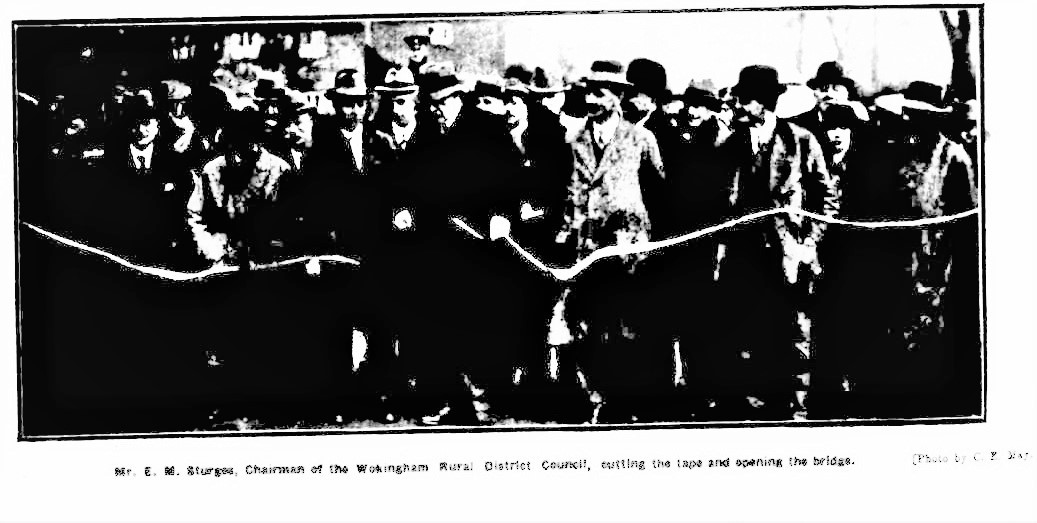 While I am speaking, please take the opportunity to study the image currently being shown – it will take your mind off what follows, if nothing else – and consider the nature of the building in the background.  What is it?  It does not resemble the Dog and Duck.
There has been much more published on line by the British Newspaper Archives providing an abundant source for local history.   WASPS   For instance, in 1947, while demolishing an unsafe chimney stack on the Rifle Volunteer a deserted bees' nest was found – hundreds of dead bees.  The original stack was of the unusual design (Elizabethan style), a feature of many buildings built by John Walter III of Bear Wood, and which can be seen on the houses for his estate workers (Reading Road near the OFR junction) – I do not have a picture of these.  Why?
Referring back to the display, the bridge was built in 1925 after much demand from Alfred Rasey, serving Emmbrook on the Rural District Council for 18 years.  Any ideas yet?  Answers on a post card….
Here is a view of Emmbrook Bridge from 1925.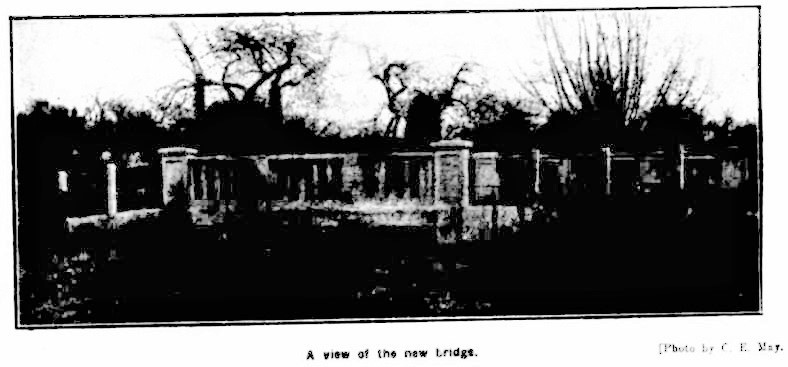 Post war house building is chronicled including the story of Toutley Army Camp, a small amount of detail only has been described in an earlier "Unfinished" book.  After the war, the army did not, at first, allow WBC to take over the huts for the housing that was needed.   There were even questions in the House!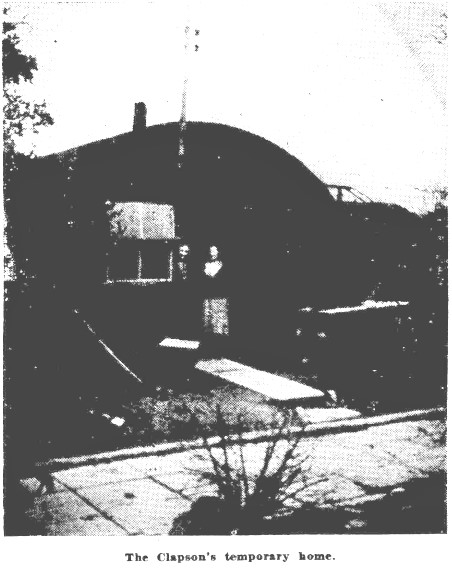 Subsequent editions of the Wokingham Times reported on the nefarious activities of those who had moved in.  On the plus side the Naffi hut was used for a Youth Club.
Now, we are lucky to be here, because in 1932 on the occasion of an Emmbrook Cricket Club social the new Rector at St Paul's proclaimed that the hall should be converted into a gymnasium.  That meeting was in part in celebration of the cricketers having won the Maker Challenger Cup the previous season.  Emmbrook footballers won the Fielden Cup on one occasion and reached the semi-final several times.
Other social events in the village were pigeon racing, darts (based at the Thatched Cottage), whist drives, dances.  The Emmbrook WI occupied the Hall for 25 years and their monthly meetings are reported with monotonous regularity, detailing such activities as making a bouquet in a wine glass.  Coach trips were organised by some of these groups, to such places as Goodwood (for the horse racing) and Brighton.
By contrast, in 1926 the Richmond White Horse Botanical Society visited Emmbrook, having an excellent meal at midday at The Thatched Cottage Inn after which one Joe Laker played the piano to them, then there was a cricket match (Emmbrook won, of course!) and after tea and more musical entertainment they left to arrive back at Richmond at 11.30pm.  There were annual visits in later years when it was reported how much they enjoyed strolling in the country lanes of Emmbrook.
Despite Alfred Rasen's plea for a bridge and stating that the Emmbrookers were too poor to contribute to the cost (as one councillor suggested they should), the people were very thrifty in their support of a Christmas Club.  In 1930 at the shareout  held in Mr EE Knapp's garage – £375.6s.6d; contributions for the year created a record of £423.15s.9d paid in by 155 members.  Mr Rasen was the treasurer.   At the shareout in 1931, £484.0s.2d was distributed among 155 members.   In 1932 the share-out was £547.10s.3d to 146 members.  It was an enormous amount for such a small village.  By comparison, the shareout at All Saints' parish in that year was £2,376.5s.4d.  That was against 1,916 cards.  Thus Emmbrook gave out nearly £4 per person as against All Saints' a little over £1.  1933 the shareout of £780 took place in the smaller Club Room.  This Christmas Club had started in 1925 when £105 was paid out.
Reports of RTAs were prolific items and a favourite spot was on the Reading Road in the vicinity of the Rifle Volunteer.  Nothing to do with activities therein, although on more than one occasion the mortally injured individual was laid out where he had come to rest, in front of the pub.  Those who survived were sometimes taken inside and treated!
Later in time, neighbourly disputes and more salacious goings on were reported, although not in the detail that might have been written up in the News of the World.  Would that local papers now, contained more of the minutiae of village life, instead of the mundane blunderings of Town and Borough Councils and interminable letters from Councillors.
Policing – Richard Dairy
I think you all know that Wokingham is a low crime area and we are fortunate to live in Emmbrook which I think is considered to be a very low crime area (see crime statistics below).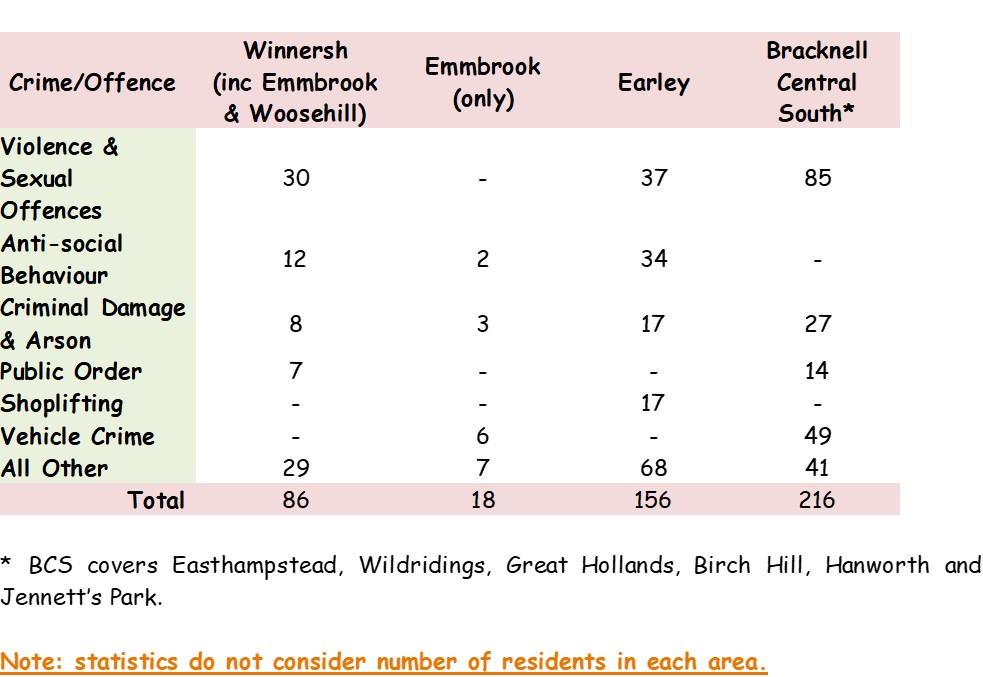 Consequently, it's only occasionally that the ERA has dealings with the Police.
Previously the ERA has submitted reports on behalf of residents relating to discarded drug paraphernalia and suspicion cold-callers. Last October we submitted a report regarding anti-social behaviour at the children's playground in Lowther Road. Local residents reported that the bushes situated at the fence line between the playground and the road had grown to a height that screened the playground from the road/pavement. This seemed to be encouraging anti-social behaviour in the playground. A request was also submitted to WBC asking them to address the issue.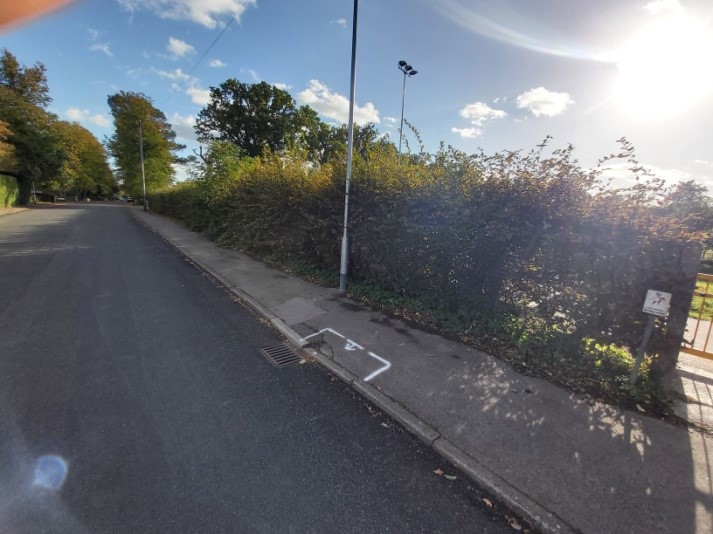 Following ERA's intervention, vegetation control measures were implemented.
The ERA website features a policing page with sections on:
Neighbourhood policing
Have your say
Reporting crime or problems
Neighbourhood Watch
Crimestoppers
Victim Support
Recent advice topics
General advice topics.
Previously Emmbrook and Woosehill had its own local neighbourhood policing team, but it's now are covered by the local neighbourhood policing team for Winnersh. The website includes ways to contact them, how to report crimes, suspicion behaviour or other matters.
The ERA website also has a link to the TVP website (https://emmbrook-residents.org/local-affairs/policing/).
This includes the StreetSafe service. StreetSafe is a police service which allows residents to report (anonymously if they wish) any place that makes them feel unsafe – for any reason.
We receive regular Neighbourhood Alerts from TVP and Action Fraud covering a range of topics – those we think contain information pertinent to Emmbrook are put on the website.
30 have been received since the last AGM, i.e.during 2022/23.
Subject matters included (but not limited to):
theft of catalytic convertors from cars
burglaries
security advice/keeping your home safe
distraction thefts
frauds and scams
vehicle security alerts and advice
appeals for witnesses e.g. bank robbery in Woodley, serious RTC
Community Safety Charter (launched to tackle crime in public spaces)
modern slavery and human trafficking
street harassment.
If you have a few spare minutes have look yourselves to see all that's on the ERA website relating to policing.
ERA presence online – Chris Mallett
For a number of years now we have used both our website and Facebook page as the primary means for engaging with existing and prospective residents.  We plan to stick with this going forward.
Our website allows us to share relatively large amounts of information and also to point residents to other useful sources of information.  It also serves as an archive for any resident, or other interested person for that matter, to look back at news items and any other information.
In contrast our Facebook page is principally used for real-time communication, and also helps us to sign-post information on our website.  We do however recognise that not everyone uses Facebook so we aim to duplicate Facebook communication using the website posts section wherever possible.
Let's have a quick look at the website.
Here's a quick look at our Facebook page.
We generally get a good level of engagement on our Facebook posts, and whilst that is less so on our website posts I think that probably just reflects how they are used very differently by most people.
In the last year we have changed the hosting for our website from Bluehost to GoDaddy.  The decision was largely triggered by malware problems we reported at the last AGM and the need to find a host who could provide the required level of security at the most competitive price.  We were able to secure a discounted rate for 3 years hosting arrangement.  Despite a few challenges with the transfer, so far, we have been very happy with the service offered by GoDaddy.
We of course welcome any comments on the content of both our website and Facebook page, so please feel free to let us know what you think.
Treasurer's Report- Membership and subscriptions – Andy Goffin
Below are our accounts, which show income and expenditure for the last year and the current financial position of the ERA.
ERA Accounts:
On screen is the ERA income and expenditure account for last year: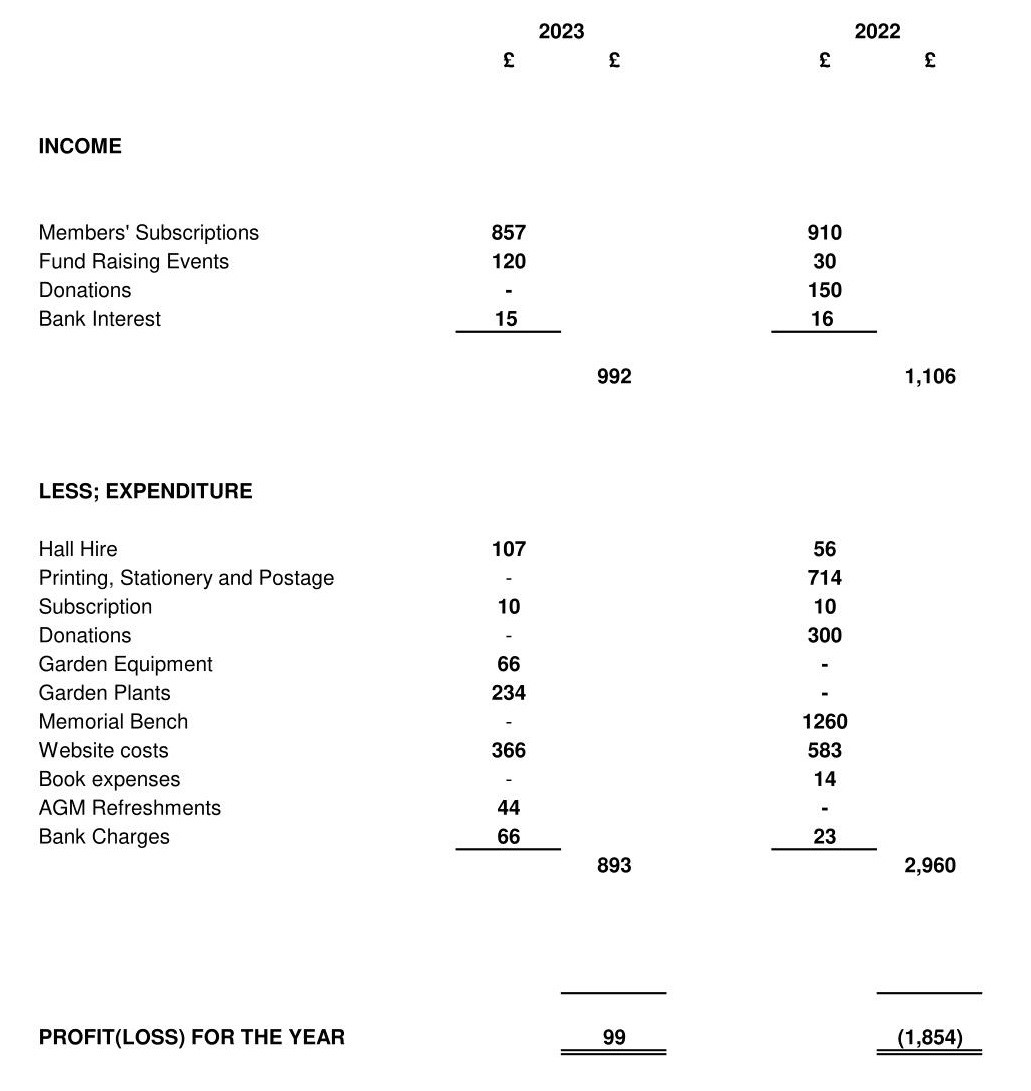 Income:
Subscription income was £857 (a decrease of £53 against the previous year).
History book sales raised a total of £120; and £15 interest was received from a Savings account.
Expenditure:
Expenditure decreased against last year by over £2,000, as there were some significant one-off costs last year.
Main items of expenditure this year were for village hall hire, garden plants and equipment in relation to Corfield Green, and website costs.
Balance Sheet: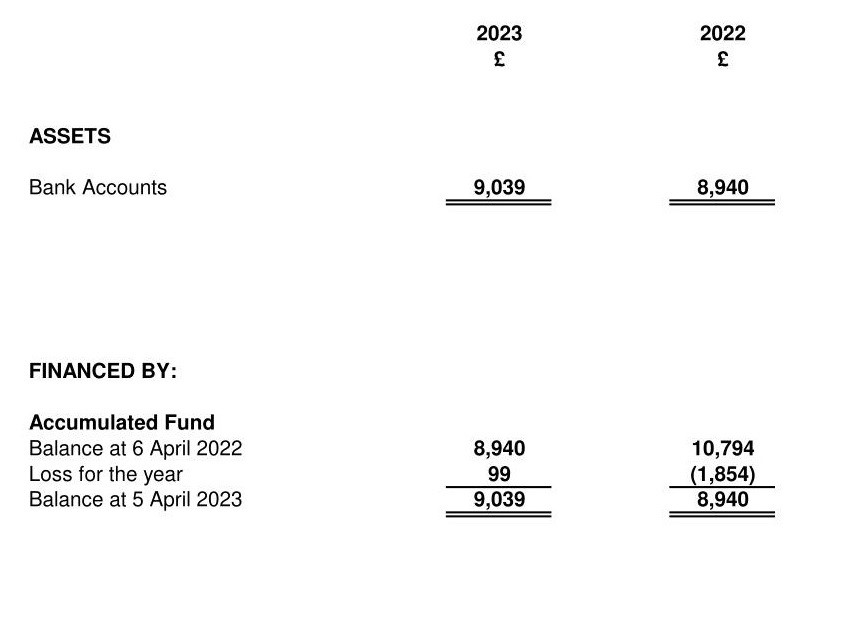 This shows that we have a balance in hand of £9,039 – a small increase from last year of £99. The ERA remains in a healthy financial position.
Membership:
Our current membership stands at 134 households, a net decrease of 6 compared to last year, out of approximately 800 houses in our area.
We are always looking to increase our membership, so please encourage your friends and neighbours to join us if they're not already members.
Subscription payments:
57 subscriptions were paid by standing order, which is the preferred payment method, and most of the others were made by online bank transfer which is also helpful. Thankfully, only 7 cheques were received, with each being increased by at least 80p which covered HSBC's costs for cheque handling.
The biggest frustration of being ERA treasurer is the time I waste chasing up overdue subscription payments. It generally takes around 6 months and up to 4 or 5 email reminders to the worst of the slow payers!
Please set up a standing order if you've not already done so.
Thank you all for your support over the year.
Auditor:
Finally, I would like to express my thanks to Sylvia Geeves, who once again has prepared and audited our accounts and has also kindly agreed to do it again next year.
Election of Auditor for the 2023/2024 year – Andy Goffin
I'd now like to propose that Sylvia Geeves is elected to serve as the ERA auditor for next year.  Proposed, seconded and approved.
Election of Committee Members – Pierre Featherbe
Six of the current committee have volunteered to stand for the forthcoming year and all have been proposed and seconded. As there have been no further nominations all have been approved.
The 2023 / 2024 Committee consists of the following members:
Pierre Featherbe
Andy Goffin
Chris Mallett
Richard Dairy
Peter Shilham
Robert Millen
Questions – Pierre Featherbe.
On behalf of the committee I thank you all for listening and I am happy to open the meeting up for any other business, questions or comments.
The use of our new projector has been made available for other users of the Village Hall.
Speed of traffic on the section of the NDR from the junction of the Old Forest Rd to Coop was mentioned as being too high. The speed limit is 30mph but when approaching three fields crossing since there are no houses it is not obvious the speed limit has changed. This is despite there being 30mph signs.
This was raised by 4 members at the meeting.
It was mentioned that 80% of traffic at the three fields crossing was over the speed limit.  ERA to investigate.
One member advised that the front of St Celia's school was a mess. It was explained that for 2 years after opening it is looked after by the developer. The school is waiting for the developers to fix problems and after 2 years they will take over.
A question was asked about who looks after the bat boxes in the Sang. No one knew. ERA to investigate.
The "Go with the flow" sign was mentioned as being with Men's Shed and FOTE. It was expected back soon. ERA to ask Men's Shed if they can look at the other notice board in the Sang.
One member mentioned that drug dealing has increased. It was advised all should report any occurrences to the Police. ERA to pick up with the Emmbrook school about drug dealing on the 3 fields. Another area was the path next to Morrisons.
The path on Emmbrook walk is in poor condition after the heave rain washed some of the surface away. ERA to investigate.
The Deer bench was mentioned as being in poor condition. Some repair work has been carried out to stop water pooling even after the bench was tilted. ERA to ask Men's Shed what they recommend to keep it from deteriorating.
One member asked if the NDR has been given a name. All were advised that it is called Toutley Rd and road signs are present at the junction of Reading Rd roundabout. We are hoping a suitable road will be assigned by WBC in memory of Paul Gallagher.
Close meeting – Pierre Featherbe.
This report will soon be made available on our web site.
On behalf of the ERA committee volunteers. We thank you.
I would like to formally close the meeting and invite you all to partake in some nibbles and drinks.