Welcome to the website of the Emmbrook Residents Association.
We would welcome any comments you might have, especially if you have any suggestions for improving or expanding the content.  Please email your ideas to the webmaster, John Wood, who will be pleased to hear from you.
We look forward to continuing to bring you news and views on matters of interest to the residents of the Emmbrook area.  For the latest news on what's been happening in our area, please see below ……
What's New
Matthewsgreen Farm – Latest News from Bovis
Bovis have just published a newsletter for January, principally concerning their involvement in the local community.  If you wish to see what they have to say, please click here
Posted 19th January 2018.
Light on Toutley Road
Where you cross the road by Langman Close (the new cul de sac) there has been a light out for a number of months.  There has been a lot of confusion as to who is responsible for fitting a supply to this light, Bovis or WBC.  It's now sorted and WBC should be doing this with their contractor on 5th of January.  We will keep the pressure on till this is resolved!
Posted 29th December 2017.
Updated on 16th January 2018:
Unfortunately we missed the 8th of January but a valiant effort was made due to problems to find the live feed and other telecom works in the area.  With the assistance of David White of WBC keeping the pressure on Volker the council street lighting contractor it was resolved on Monday the 15th.  Thank you David – this is a example of the ERA liaising with WBC to get a result.
Concrete batching plant, Toutley Depot
We are very pleased to tell you that Wokingham Borough Council has refused the planning application for the above.  Thank you to the many of you that responded to our alert by sending in your comments to WBC – we are sure they helped in reaching this decision.
The "decision notice" can be viewed on the Council's website (search against application number 172876). It cites a number of reasons for refusal including:
the design not being in keeping with the local area

insufficient information provided in respect of noise impact, pollution impact and traffic movements

flooding risk at the location.
We are aware that the Council has now referred this matter to their "enforcement" team.  We take this to mean that steps will be taken to ensure that the operation stops and presumably the removal of the plant.  We are trying to get more detail on this and will post as and when we get it.
So far, so good and thanks to both residents and ward councillors for their efforts on this.  Of course, the company has the right to appeal – again, we will let you know if we hear anything.
Posted 15th January 2018.
Thames Valley Police – Survey on Increase in Council Tax to Fund Enhanced Policing
Thames Valley Police have launched a survey to gauge public opinion on a potential increase in council tax to fund enhanced policing in the area.  The survey is open for members of the public to contribute their opinions until 11th January 2018.  If you would like to read the relevant communication from the Police and Crime Commissioner, and to take part in the survey, please visit our Policing page.
Posted 29th December 2017.
Grass Against Seed
ERA were able to persuade Bovis to deal with the weed strewn verges down Toutley Road by turfing.  The areas were planned to be seeded but we used the argument that seed would not germinate at this time of year and turf would have an instant effect of making the area look better for both residents and sales of houses.  Thank you Bovis.
Posted 29th December 2017.
Objections to concrete batching plant
The ERA would like to thank the large number of residents who posted objections, approximately 48, at short notice.  We are monitoring the situation for developments and we will keep you all updated.
Posted 29th December 2017.
Toutley/Matthews Green Junction
Some of you might believe the finish of this area is not of the quality you would expect.  This surface is temporary as there is a plan for a complete upgrade of this area at a later date.
Posted 29th December 2017.
Primary School and Community Centre on Matthewsgreen Development
At a meeting of the Planning Committee on the 13th December a decision on the planning application for the primary school on Matthewsgreen was deferred and the application sent back to the Council officers for reconsideration.
A brief explanation of how we have arrived at this situation is:
Early in the planning of the Development it was agreed with Bovis that, due to its size, it warranted a single stream primary school (referred to as a one form of entry, or a 1FE, school). Bovis agreed to supply the land for the Council to build it;
In the meantime Bovis refused to provide a decent community centre for the Development, offering just a room over the proposed retail units, consequently it was eventually agreed to combine it with the school so that they could share the facilities and to minimise build costs;
The Council's Children's Services decided to "future proof" the school by designing the building so that additional classrooms could be built onto one end of it to provide a second form of entry if/when required.
The problem is that the site is not large enough to accommodate the community facilities and the larger 2FE school building and still provide outdoor space for the pupils to the Government's recommended minimum; hence the Planning Committee's decision.
Posted 18th December 2017.
Fake Government Grants Fraud Alert
Thames Valley Police have issued a warning about fraudsters attempting to represent themselves as agencies whose purpose is to assist individuals and businesses to apply for government grants.  To read the full text of the warning from the police, please visit our Policing page.
Posted 16th December 2017.
SANG Update
We have now had the land at the bottom of Old Forest Road open for public use for a year. It has proved popular with dog walkers and those who just want to stretch their legs. By the end of the month we hope to have an Information Board installed at one of the entrances with its new nicer name – Old Forest Meadow.
We have been liaising with the appropriate WBC department about the maintenance and possible improvement of the site. Here are some highlights of what has been happening and what is to come:
Three wooden benches are to be installed at various points round the site by the end of January.
The final cuts of the year have happened, and will resume in April.
The area of meadow south of the Emm Brook has been put out to contract for spraying twice, then it will be rotavated and re-seeded (again!) during the Spring by WBC's own contractors.
We have asked that a small area of the Emm Brook be opened up for people to get closer to the water. This will be done very soon at the northern point of the site with fencing installed as a safety measure.
Tree planting along the northern motorway boundary is programmed in for January/February.
We are in discussion with WBC about the use of a salvaged oak tree trunk from the Matthewsgreen site for a wooden sculpture on the site, and we have secured some funding. Current thinking is to have a sculpture of a deer, given that they are occasionally seen on the SANG. If you have a view on this, please let us know as soon as possible.
If you have any suggestions about further enhancements to the site, please forward them to us and we will see what we can do.
Posted 13th December 2017.
Newsletter from Bovis
Bovis have published a newsletter detailing what is in store for Phase 4 of the Matthewsgreen Farm development.  To view the newsletter, please click here.
Posted 7th December 2017.
Police "Drop In" Session at Wickes, Winnersh
Thames Valley Police will be holding a "drop in" session at Wickes store in Winnersh on Monday 11th December between the hours of 10.00 and 16.00.  They will be highlighting the issue of fly tipping and waste carrier licences but there will also be officers and PCSOs available to answer any questions or queries.
Posted 1st December 2017.
Police Advice for Safe Online Shopping
As Christmas come closer the shopping frenzy will be building up, and increasing numbers of transactions will be taking place on the internet.  Thames Valley Police have issued some advice on how to stay safe whilst shopping online, and this can be found by following this link to our Policing page.
Posted 28th November 2017.
Wokingham Town Council Civic Awards
Each year, the Town Council looks for individuals living or working within Wokingham who deserve recognition for their outstanding achievements and contributions to the town.  The council is now inviting members of the public to submit nominations for potential recipients of the awards for 2017.  If you wish to make a nomination, please use this link to access the relevant page of the council's website.  Please note that the deadline for nominations is Thursday 30th November.
Posted 24th November 2017.
New ERA Committee Members
Some months ago we circulated the information that we were about to lose two key members of our committee – our Treasurer and our Secretary.  This threatened the very existence of ERA.  I am delighted to announce that a number of volunteers from the community came forward and as a result we now have three new committee members – Tor Tigerstedt, Pierre Featherbe and Andy Goffin.  Pierre is taking the Secretary role, Andy is our new Treasurer and Tor will assume some specific responsibilities within the committee in due course.  It is always good to get "new blood" onto a committee and we really look forward to their contribution.  However, at the same time we are sad to have lost the services of Phil Preston who has fulfilled the Treasurer role for many years and to be losing the Secretary services of Lesley Dow at the turn of the year.  I would like to take this opportunity to thank them both for their hard work for the community and wish them well for the future.
You can see more details about our three new members on the ERA Committee page.
Posted 16th November 2017.
Second Video in Support of Town Centre
Wokingham traders have now released the second of three videos in support of town centre shopping.  It can be seen by following this link:
https://youtu.be/KOf181ntBfI
Posted 16th November 2017.
Call to Support Wokingham Retailers at Christmas
It is no secret that many shop keepers in Wokingham are suffering a loss of trade currently, largely due to the "regeneration" works that are taking place in the town centre.  Many of those retailers have joined forces to produce a short video asking for the support of the public in the run-up to the all-important Christmas selling season.  The video can be watched on YouTube by following this link:
https://www.youtube.com/watch?v=vfdNDSJhuNk
Posted 14th November 2017.
Joel Park Residents Association Carol Service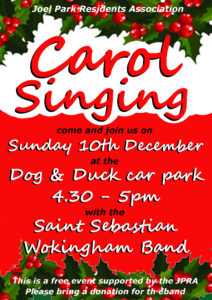 The Joel Park Residents Association is sponsoring a carol service to be held in the car park of the Dog and Duck from 4.30 to 5.00pm on Sunday 10th December.  Supporting the singing will be the St Sebastian Wokingham Band.  All are invited to attend this festive occasion.  Admission is free of charge but donations to the band's funds will be greatly appreciated.
Posted 14th November 2017.
Free Bike Security Marking Event
The Wokingham Borough Council Security Wardens will be offering a free security marking service for bicycles on Tuesday 14th November, between 11.30am and 1.30pm, at the Bike Shed near the pond at the rear of the Shute End offices.
Posted 8th November 2017.
Hallowe'en
Hallowe'en is almost upon us and, while a lot of people regard it as a fun occasion, to others it can be a nuisance or, in some cases quite frightening, to receive visits from "trick or treaters".  The police have published a poster that can be used to deter unwanted callers on the 31st October, and copies can be obtained by emailing a request to this address:
alert@neighbourhoodalert.co.uk 
Posted 4th October 2017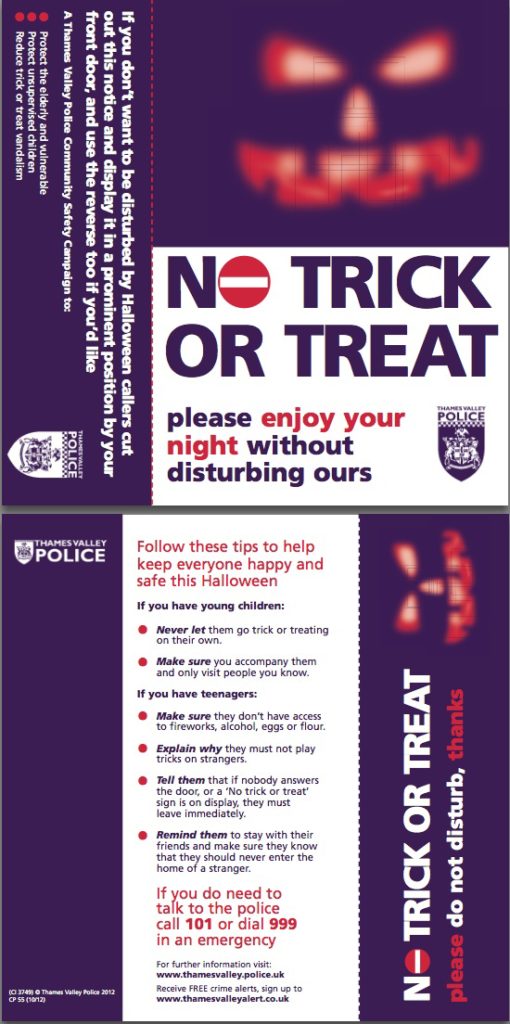 Replacement of Street Lighting
Wokingham Borough Council have notified us of the programme for the next phase of street lighting upgrades in our district, as set out in the table below: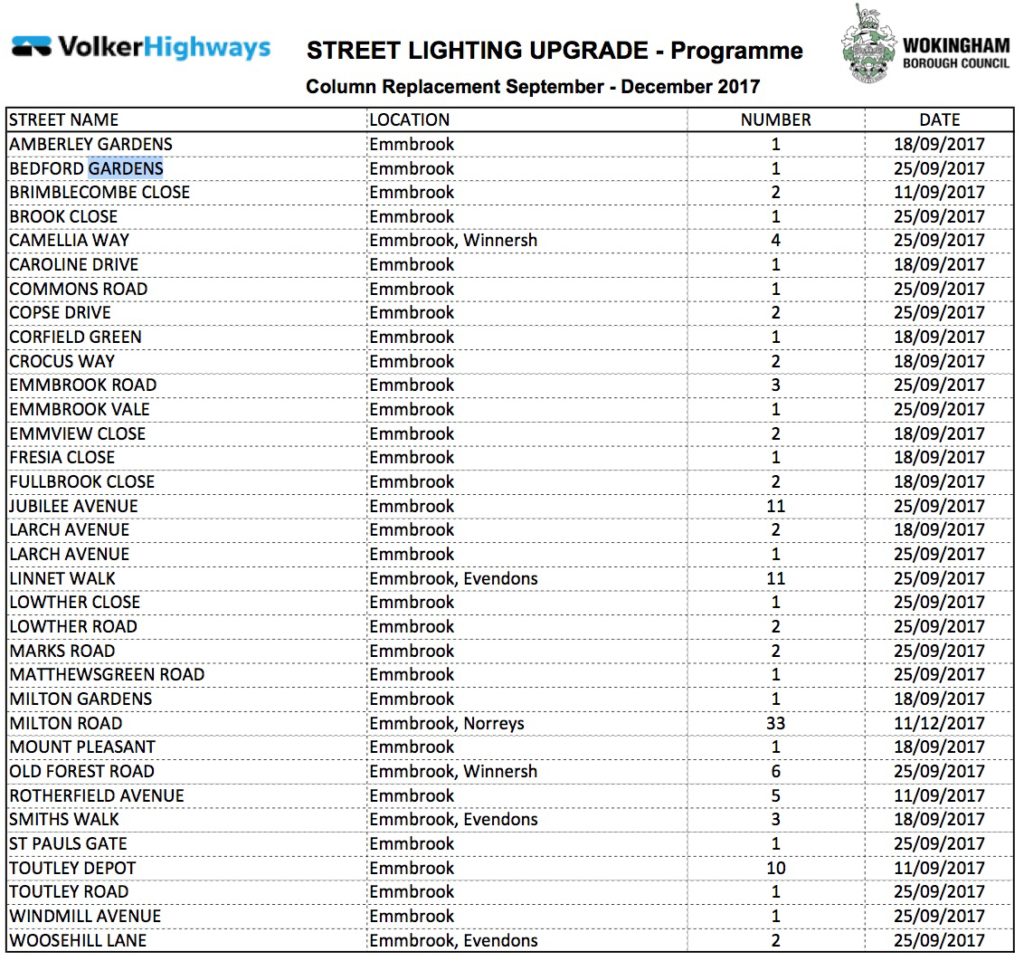 A
Posted 23rd September 2017
Message From Thames Valley Police
Over the last few weeks the police have seen several homes which are undergoing renovations being broken into and tools left inside stolen.  People who are engaged in renovation activities, or otherwise leaving their homes unoccupied for any length of time, are advised to take the following precautions:
Conduct frequent checks of the property at different times of the day to note any signs of trespassing or interference
Install a burglar alarm and set it
Secure all doors and windows with deadbolt locks
Install timers on internal lights and motion detectors on external lights to make the house appear occupied and offer natural surveillance of the property
Ensure that the building doesn't look neglected. Cut the grass and hedges regularly
Remove rubbish from inside the building and around the perimeter
Put measures in place to protect empty buildings against arson, theft and vandalism
Avoid the build up of post and unsolicited mail
Keep any tools left inside in a secure place out of sight from windows and doors
Report any suspicious activity to the police
Posted 11th September 2017.
Wokingham Virtual Museum – Volunteer Required
We have received the following message from Gemma Cumming, the Arts & Culture Officer at Wokingham Town Council:
"As you may know the Wokingham Virtual Museum has been online for the last four years and in that time we have placed online a number of the artifacts within the Town Hall.
"The aim always was to expand this out into the wider town but for the time being we are still processing the items we have.  We would like to speed this process up so we are looking for a volunteer who might be able to help with the inputting of items that we already have imagery and information for and to assist me in identifying items that should be online but have yet to be fully catalogued.
"The volunteer would need to have an interest in local history, a good standard of written English and be comfortable and confident working with computers.  Training on the particular web software that runs the Virtual Museum will be given.  We are looking ideally for someone once a week for a morning or an afternoon at a mutually convenient time.
"We have got in touch with Wokingham Volunteer Centre in the hope they will also be able to promote this opportunity however as the Civic Society in the Town and a staunch supporter of Wokingham's heritage we wanted to make sure you were aware of it."
If you are interested in volunteering for this role, Gemma can be reached at:
Posted 11th August 2017.
An Opportunity to Get Involved With the Police (In a Nice Way!)
We have been notified by Thames Valley Police of an Open Day to be half at their Training Centre at Sulhamstead on Saturday 5th August.  Full details, as provided by the police, follow:
"There is less than a week to go until Thames Valley Police opens its doors once again, to host the eleventh force Open Day on Saturday 5th August.  The event is being held at our Training Centre in Sulhamstead, near Reading (RG7 4DX) and will be open between 10am and 4pm.
"With over 40 exhibitors attending, there is something for everyone.  This year the Open Day promises to be even bigger and better than before.  Here are just some of the highlights in the jammed packed programme:
• Become a detective for the day and solve the crime
• Arena displays showcasing the specialist dog, horse and public order teams
• See the force helicopter up close and meet some of the pilots
• Listen to expert talks about tactical armed policing, the dangers of sexting and how we are combatting organised crime
• Children's fancy dress – come dressed in police themed costumes
• Name a police puppy competition
• Sample some mouth-watering delights in the Fun Food Kitchen
• Visit the on-site museum to learn about some of our most notorious cases.
"For the first time, visitors will be able to become a detective for the day. Working with our Forensic Investigation Unit, you can solve various clues to reveal how Mr Money Bags met his unfortunate demise. Children are also encouraged to come dressed in police themed costume, with a parade at midday and a fabulous prize up for grabs.
"The theme this year is Children and Young People and there will be a dedicated Kids Zone featuring our Cadets and Mini Police recruits. We are also supporting SAFE, a charity that helps people aged between 8 and eighteen who have been affected by crime within Thames Valley.
"Limited parking is available and will be offered on a first come, first served basis. Dogs are not permitted (except for assistance dogs) and must not be left in vehicles.
"The Open Day will close at 4pm with the last entry at 3.30pm."
Posted 1st August 2017.
Police Alert re Increase in Vehicle Crime
We have received an alert from Thames Valley Police, advising us that they have seen an increase in vehicle crime around the area and would encourage people not to leave items in the car, in one incident golf clubs were left in the boot and then stolen.  They provided us with a list of recent incidents and although thankfully none of them were in Emmbrook we should not become complacent.
Tips from the police to avoid becoming a victim of vehicle crime follow:
Never leave items in your car, sunglasses, loose change, satnav – the thief will search through the glovebox and side pockets – we support the empty car campaign
Always close the windows, lock the doors and activate any security devices.
Report anything or anyone suspicious immediately to the police on 101Never leave items in the car or van whether valuable or not – it only encourages someone to break in and find out it's a paper bag!
Report anything or anyone suspicious immediately to the police on 101.
Posted 28th July 2017.
Temporary Closure of Toutley Road
We have been advised by Gracelands, a contractor to Bovis, that Toutley Road will be subject to closure for a period of six weeks from next Wednesday, 26th July.  The text of the letter that we received from Gracelands follows:
"As part of the Matthewsgreen housing development Gracelands Ltd are the construction company who have been asked to complete the final coordinated works for the new Northern Distributor Road and Toutley Road. This includes the upgrading of existing highway drains for eighty meters north of the tie in and improvements to the junction between Toutley Road and Matthewsgreen Road.
This work has been agreed between Bovis Homes, Linden Homes and Wokingham Borough Council.
All the works are due to commence on the 26th July and are expected to take six weeks to complete. The works have been planned to take place over the summer holidays to minimise disruption.
Toutley Road will need to be closed for the duration of the works, and working hours during the improvements will be 8am to 5pm from Monday to Friday and 8am to 1pm on Saturdays. For residents on Toutley Road who are directly affected by improvement works in front of their properties, temporary parking will be provided in front of the Linden Homes development.
The works to upgrade the highway drain will be managed using traffic lights on Toutley Road.
The widening of the Toutley Road/ Matthewsgreen junction is necessary to allow for an extra traffic lane from Toutley Road to Matthewsgreen Road and will be managed using a three-way set of traffic lights. The junction will have new anti-skid surfacing and white lining, and a new Zebra crossing will be installed by the junction.
Full details of the diversion route and road closure can be found at:
Should you need to contact someone in an emergency during working hours please call me on 07850 189094. For all other enquiries, please email Bovis Homes' appointed community liaison officer Gemma Gallant: communities@cratus.co.uk.
We apologise for the inconvenience caused by these works and thank you in advance for your patience. When the work is completed we hope you will appreciate the improvements to the area.
Posted 23rd July 2017.
Wokingham Music Festival at Cantley
We understand that the Wokingham Music Festival at Cantley in August has been approved by the Wokingham Borough Council Licencing Committee with appropriate conditions imposed regarding noise monitoring, etc, which address the concerns that had been voiced by ERA.
Posted 24th June 2017.
Matthewsgreen Footpath Works – Completed
We have been advised by the developers that the footpath/alleyway widening work in the Matthewsgreen area has now been completed.
Posted 24th June 2017.
Policing Updates
As a new feature, we are going to include on our Policing page updates and advice that we have received from Thames Valley Police on security and other issues.  Please go to the Policing page to see the latest information we have received.
Posted 15th June 2017.
Events at Cantley – An Update
We had previously reported – on 26th May – that there were proposals for two events to be held at Cantley in August.  We have now been advised by Wokingham Borough Council that the organisers have withdrawn their application for a premises licence for the first event, the "Big Weekend", which was scheduled for 5th-6th August, as the event has been cancelled.
So far as we are aware plans are still going ahead for the second event, the Wokingham Music Festival, to run from 25th-27th August, with set-up taking place on the 23rd-24th August.
Posted 14th June 2017.
Out-of-hours Working at Matthewsgreen Development – An Explanation
We have been advised by the developers that while carrying our construction works on Matthewsgreen Farm Phase 2b during the course of Wednesday 7th June, part of the work undertaken was to expose a section of the foul rising main.  The rising main was due to be disconnected and made redundant, but this work has not yet been carried out.  While excavating around the main, a section/joint within the main ruptured, causing waste water to seep onto the surface of the development.
Thames Water services were immediately notified of this and attended the development to carry out a localised repair later this afternoon.  The on-site team formed a bund to ensure the discharged water was contained.
While they were carrying out this work, the drainage pumps were running continuously.  Flood lights were also set up to allow them to complete the repair.
We are assured that every effort was made to minimise disruption, but the developers have offered their apologies for any inconvenience caused to those residents living closest to the Phase 2b site.
Posted 10th June 2017.
Flower Beds at Corfield Green
As previously reported, ERA has been working with the Emmbrook Infant and Junior schools to develop a planting scheme for Corfield Green.  We have also been kindly assisted by Paul Smith from Wokingham in Bloom, both in selecting Corfield Green as a suitable site for planting and providing advice and assistance in developing the proposals with the school.
The first stage of the planting was of spring bulbs.  Now that their season is behind us we are pleased to report that the next stage of planting is planned to take place on 9th June, when we will be filling the beds with plants and turning the school children's design into reality.  We also plan to provide a bench around the large oak tree.
Posted 29th May 2017.
Latest News from Matthewsgreen Farm Developers
Footpath/alleyway widening work in the Matthewsgreen area will continue during week commencing 30th May, with work ongoing on the third footpath (known as number 16).  The map showing which footpaths are being widened can be found on the Bovis Homes community website.
Posted 27th May 2017.
Festivals at Cantley in August
We have become aware that there are two music festivals planned for Cantley Park this August.  Whilst we are not opposed to these in principle, we believe residents should be aware and have the opportunity to comment to Wokingham Borough Council should they so wish.
The first event takes place on 5th and 6th August, and is called the "Big Weekend".  We have no information on this other than that shown on the organiser's website, http://www.bebw.co.uk/.  The website says that the event on Saturday starts at 11am and will run until 11pm, and the event on Sunday starts at 11am and finishes at 7.30pm.
The second event is the Wokingham Music Festival which has normally taken place at Elms Field but needs to be relocated temporarily because of the redevelopment of Elms Field.  It will take place on 25th August (6pm to 11pm), 26th August (10am to 11pm) and 27th August (10am to 11pm), preceded by set up on 23rd and 24th.  To see the relevant letter from the organiser please click here.
If residents have comments or concerns, they should be addressed to the Council's licencing department at licensing@wokingham.gov.uk.
Important – you only have until 20th June to respond on these matters.
Posted 12th May 2017 and updated 26th May 2017.
Latest News from the Matthewsgreen Farm Developer
Two-way traffic lights will be remaining in place on Toutley Road week commencing 8th May to allow traffic to pass while operatives install a low voltage cable for the streetlights.
A second footpath is being reopened on Wednesday, having now been widened.  Work will start on the third footpath widening on Thursday.
Posted 7th May 2017.
Incursion of Travellers at Joel Park
Many residents will be aware that travellers have taken up residence in Joel Park.  In this connection, we have received the following message from Jan Nowecki, the Town Clerk of Wokingham:
"I know that a number of you are already aware that travellers are now occupying Joel Park but just to confirm that we are in liaison with the police, who were on site last night.  This is a result of criminal damage, our groundsman was on site yesterday and all fencing and the secure bollard were intact, the latter has been ripped out and dumped in the bushes.  This mode of entry should mean that it will be quicker to evict them, though this will undoubtedly take a few days.
"I am working with the police, solicitors and relevant agencies to draw this to a swift conclusion.
 I am very happy for people to contact me directly and I have already spoken to a number of residents this morning  but my plan is to give you a very regular update so that you can let people know through your own mechanisms.
"Please know that we will be working very hard to resolve this as soon as possible and return the park to its rightful state."
Posted 4th May 2017.
ERA Annual General Meeting
All members will have recently received (or will shortly receive) formal notice of the AGM.  Unfortunately, due to an editing error, the dates on the notice were shown as 2016 instead of 2017.  For the sake of clarity, the meeting will be held at Emmbrook Village Hall on Thursday 18th May 2017, starting at 8.00pm, and nominations for membership of the committee should be submitted to the secretary, Lesley Dow, by Tuesday 16th May 2017.
Non-members of ERA will be welcome to attend the meeting but, of course, only paid-up members will be entitled to vote on any issue.
Posted 28th April 2017, updated 4th May 2017.
Exploring the Emm Brook
The Loddon Valley Catchment Partnership, in conjunction with Friends of the Emm Brook, are running an event on Saturday 6th May, to explore the natural environment of the brook.
You are invited to take part in this event, which will take place from 10.00am to 1.00pm on the Riverside Walk, by  the Kingfisher Bridge.  There is no charge for admission and full details are given on the poster shown here.
Posted 4th May 2017.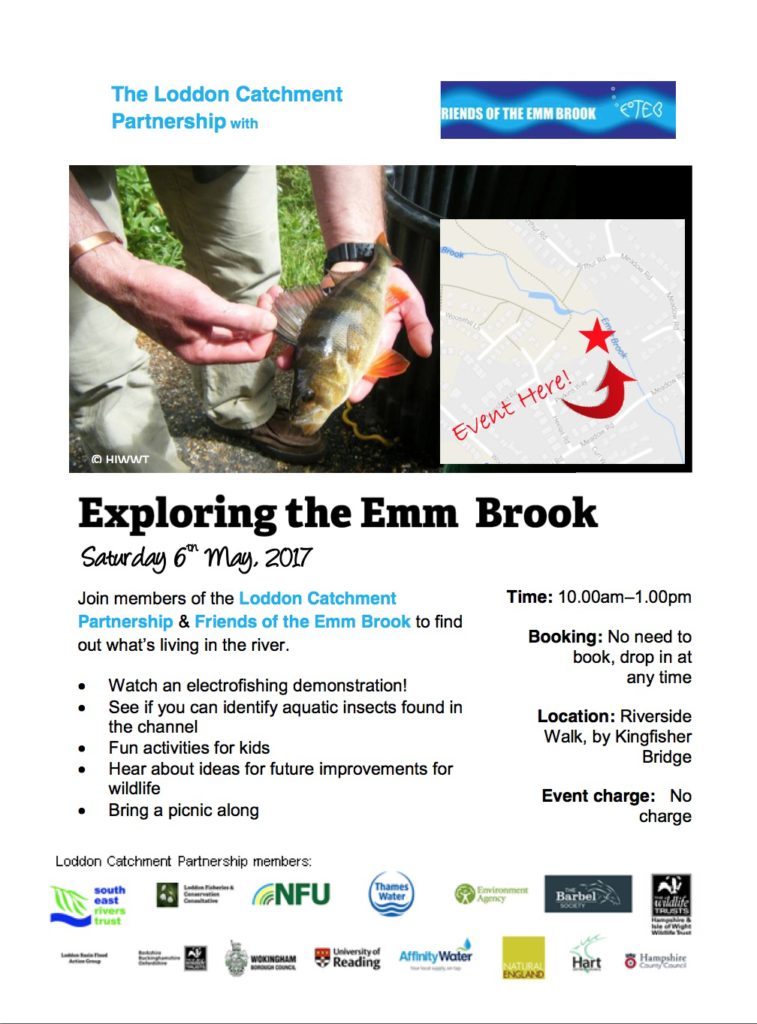 Work on Alleyways on Joel Park Estate
We have received the following information from Gracelands, who are working on behalf of Bovis, the main developers of the Matthewsgreen Farm site.
"As part of the above development Gracelands Ltd have been asked to widen and upgrade all of the various alleyways highlighted on the attached plan.
"This work has been agreed between Bovis Homes and Wokingham Borough Council.
"The works are due to commence in the week commencing Monday 3rd of April 2017 on alleyways 14 and 15, as marked on the attached plan.  In the interest of safety all walkways will be closed during the works.  We believe each alleyway will take a week or so to complete from start to finish.
"Once we have completed 14 and 15 we will follow on with 16, 17 and 18.  The number system used is based on pre-agreed engineering drawing numbers and the sequence of work was agreed with Wokingham Borough Council to minimise disruption to school children and local residents. Alleyway 19 and 20 will be done during the summer holidays.
"Should you have need to contact someone in an emergency then please ring Andrew Grogan of Gracelands on 07850189094.  Should you wish to contact Bovis Homes' appointed community liaison officer then please email communities@cratus.co.uk.
"We apologise for any inconvenience caused and thank you in advance for your patience. When the work is complete we hope you will appreciate the improved access."
The plan that is referred to in the letter is shown below.
Posted 5th April 2017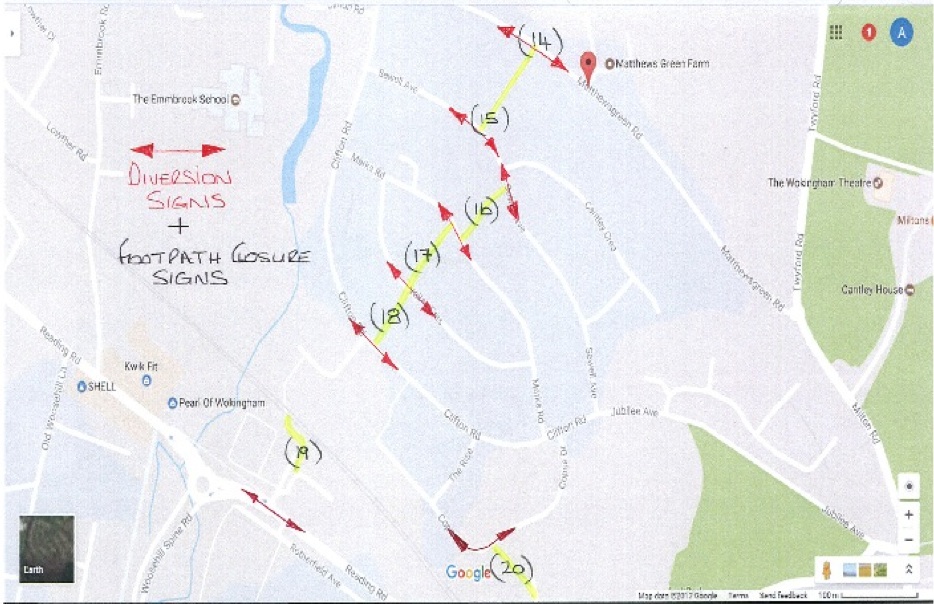 Matthewsgreen Farm – Linden Homes Update
Linden Homes, who will be responsible for developing Phase 2b of the Matthewsgreen Farm site, have provided us with a newsletter with updated information on their plans.  To view the newsletter, please click here.
Matthewsgreen Development – New and Widened Footpaths
We have been notified by the developers that during week commencing 3rd April work will be starting on the widening of the existing footpath along Matthewsgreen Road to a width of two metres.  The new pram crossings on Matthewsgreen Road have now been completed.
Posted 3rd April 2017.
New Website Page
We have recently introduced a new page to the website, where we are planning to record events where intervention by ERA has helped to achieve beneficial results for the community.  We will also, wherever appropriate, give credit to the individuals in the local authority, the utilities, and other areas where they have taken action as required.  You will find the new page, "ERA Working for You" under the ERA and You tab, or to navigate directly to it please click here.
Posted 16th February 2017.
Advice on Flooding
At the request of an ERA member who lives in Ashton Road, the Environment Agency has supplied a map identifying the local areas that might be at risk of flooding.  We are reproducing the map below.
Posted 2nd January 2017.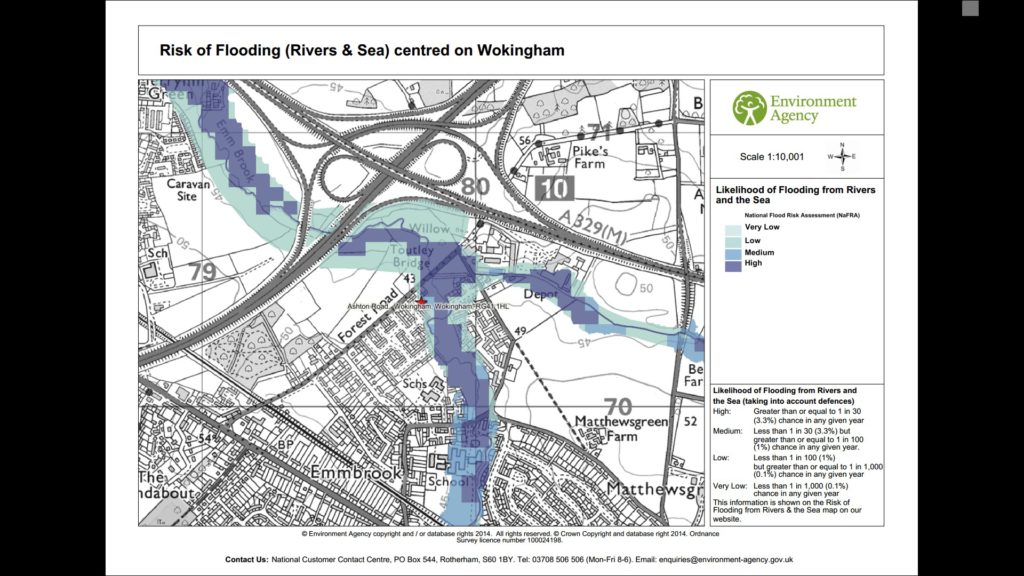 New SANG Now Officially Open
We reported on 12th October that the new Suitable Alternative Natural Greenspace, or SANG, on the Matthewsgreen Farm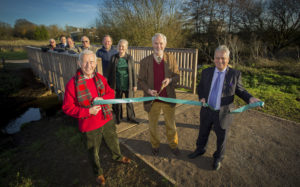 development had been opened, but the formal, "official" opening only took place on 14th December.  The following is the text of the press release that has been issued by Middlemarch Communications, the PR agency working on behalf of Bovis.
"On Wednesday 14 December, a new park for Emmbrook was formally opened.  The park is a Suitable Alternative Natural Greenspace, or SANG, and part of the Matthewsgreen Farm housing development which is being delivered by Bovis Homes Thames Valley and Linden Homes Chiltern.
"The SANG was formally opened by Councillor Angus Ross, Wokingham Borough Council's Portfolio Holder for Environment.  Bovis Homes Thames Valley have worked in close partnership with Wokingham Borough Council to deliver the SANG.  Local residents' groups, Wokingham Borough councillors for the Emmbrook ward and town councillors attended the opening.
Cllr Ross said, "I am delighted to see another SANG or country park here.  We are lucky to have to provide even more open space for our new developments within seven kilometres of Heathland.  We are approaching 100 Hectares in the borough.  The new area at Toutley will mature into another great outdoor facility to encourage residents to exercise, with or without a dog."
The new SANG covers 6.7 hectares and is accessed via Old Forest Road.  Featuring walkways and bridges across the Emm Brook, as well as ponds, newly planted trees and wildflowers, the SANG will be an attractive, open green space – ideal for those keen to enjoy the great outdoors.
Terry Tedder, regional Managing Director for Bovis Homes Thames Valley, said, "After years of careful design and hard work we are delighted that we are now ready to welcome local residents to the new park.  We hope that this previously inaccessible land will become a well-loved outdoors area for the community to enjoy."
Posted 21st December 2016.
Hewden Development
Most residents will be aware by now that an application has been made for yet another housing development, on the site currently occupied by the Hewden plant hire company in Old Forest Road.  We consider the plans, as submitted, are out of scale and are not suitable for the Emmbrook area.  We have therefore submitted to Wokingham Borough Council our comments on the proposal.  To read what we have had to say on the matter, please click here.
Posted 13th December 2016.
New ERA Committee Member
We are delighted to announce that Rod Needs has agreed to join the  ERA committee, and he has been co-opted as a member.  He will stand for election formally at the next Annual General Meeting, on Thursday 18th May 2017.  He is a very welcome addition to the team, as there is always plenty of work for us to do.
Even with Rod on board, in accordance with the ERA constitution there are still vacancies for three more committee members.  If you would like to join us, or if you would like more information about what is involved, please contact the Chairman, Paul Gallagher.
New Flower Beds at Corfield Green
As a part of our liaison with the local schools, ERA has been working with the Emmbrook Infant and Junior schools to develop a planting scheme for Corfield Green.  We have also been kindly assisted by Paul Smith from Wokingham in Bloom, both in selecting Corfield Green as a suitable site for planting and providing advice and assistance in developing the proposals with the school.  WiB have also provided some of the bulbs for planting and agreed to provide some further funding.  ERA also contributed towards the costs, and the planting was carried out by the school children in late November.
If you would like to know anything else about the project, please contact ERA committee member Chris Mallett on 0774 764 3553 or at chrismallett@emmbrook-residents.org.
Posted 23rd November 2016 and updated 26th May 2017.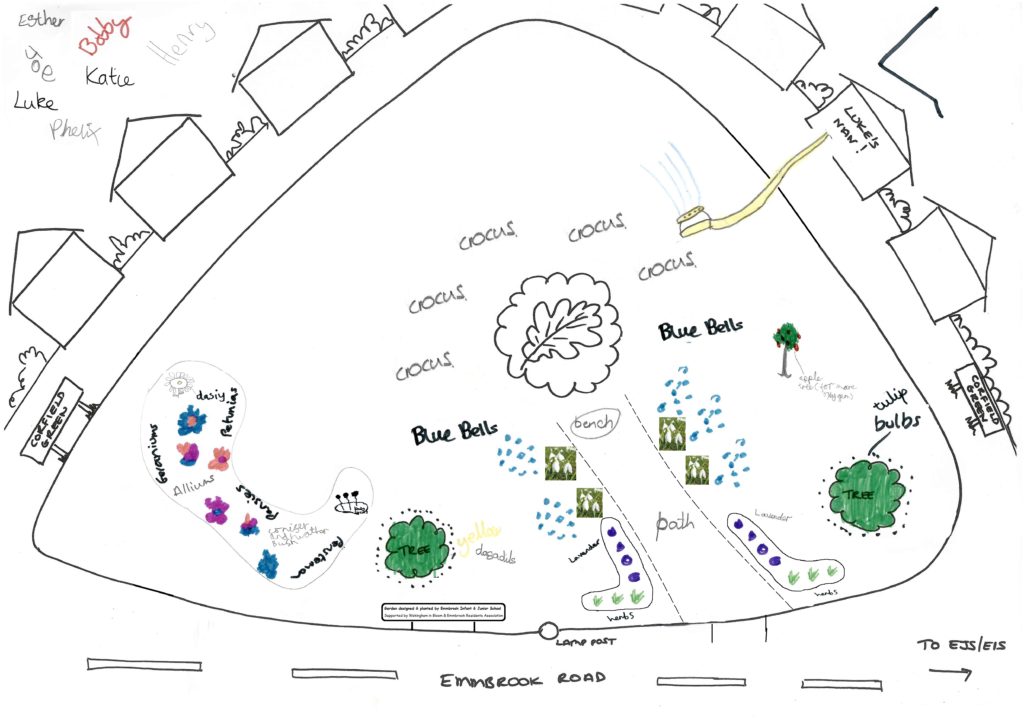 Quiz Night – A Great Success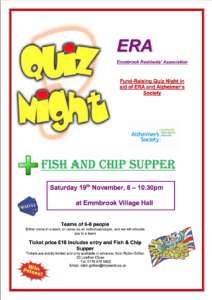 The quiz night at the Village Hall on Saturday 19th November was a great success, with 64 people taking part in nine teams.  Quizmaster Andy put together a great quiz as usual, there were well over 20 raffle prizes and we managed to sell £166 of raffle tickets.
Subject to fine tuning, we made a clear profit of something like £350 and that was after giving our Quizmaster £100 towards the Alzheimers Support Group he is associated with. We also gave Andy £15 from the "heads and tails" game for the Alzheimers Group so he was delighted.
Posted 23rd November 2016.
Flooding Under Emmbrook Road Railway Bridge
Many residents will have noticed that the road under the railway bridge flooded as a result of the recent heavy rains.  We have asked Wokingham Borough Council for advice on what residents should do to request prompt assistance in the event of flooding, and this is the advice we have received:
"When flooding is noticed by a resident then they need to contact  either Wokingham Borough Councils Customer Services on 0118 9746000 (Mon-Fri 08:30-17:00) or contact the Out of Hours service on  0800 212111 (Monday to Friday 17:00 to 09:00, weekend days and public holidays).  If their concerns are not urgent they can email Flooding@wokingham.gov.uk  to notify us of any problems.
When WBC are notified our contractor will attend and will take any necessary action to alleviate the flooding.  If we are unable to remove the problem then the decision will be made as to whether the road can remain open with flood warning signs erected or if the flooding is too severe the road may be closed and Road closed signs and any necessary barriers erected.  This will be monitored and signs will be removed once the flood water has abated."
Posted 22nd November 2016.
The History of Emmbrook – Volume 5
The fifth in our series of booklets about the history of Emmbrook has now been published and has been distributed free to subscribing ERA members.  To get your own copy either subscribe to ERA – see details here – or email the chairman to buy your copy for £4.
The booklet is packed with many stories of the Emmbrook past. To give you some idea of the varied content, read it and you will be able to answer the following questions …
What was the main feature of the Salisbury Treatment?
What calamity occurred at The Dog and Duck in 1930?
What happened twice in 1898 at Matthews Green Farm?
Where was the "dead fence" that Richard DANCE stole in 1870?
A 23 year old shepherd tried to drown himself in 1870. Where was he employed?
What precisely had twice the manure value of London sewage?
In 1878 a 10 year old Emmbrook boy was ordered to be detained at an Industrial School until he attained the age of 16 years. What was his offence?
How did George JONES try to frighten his wife?
What were three young men stealing at Christmas time, 1883?
Where was the iron foundry in Emmbrook?
Copies of volume 5 are available from the Emmbrook Post Office, whose owner, Sanjay Odedra, has kindly agreed to stock it for us.
Posted 11th November 2016, updated 16th January 2017.
Loddon Catchment Flood Risk Management Group
The Loddon Catchment Natural Flood Risk Management Group held a workshop on 16th September 2016 and they have now published a detailed report on the proceedings.  If you would like to read the report, please click here.
Posted 21st October 2016.
New Official Website Address for Bovis
We have been advised that the website address for Bovis, in connection with the Matthewsgreen Farm development, that we have previously noted on these pages has changed.  For future reference please use this this link.
Please note that there is a feedback page on the site that includes a form that residents can complete so that they are included on Bovis's mailing list.  Please do join the mailing list so that you will be kept up to date with everything that Bovis have to say about the development.
Posted 12th October 2016.
Environmental Issues – Emmbrook Catchment Area Group
Following on from previous meetings to set up an Emmbrook Catchment Area group to address flooding issues, the Environment Agency has appointed Becky Hibbert as the local representative to talk to local residents and groups to discuss ideas for ways to deal with the problems around the Emmbrook Walk area, in particular Matthewsgreen Road and the access to the school. Becky is asking for ideas on holding various community events to raise awareness of problems and also to find possible solutions. An informal 'walk and talk' along the Emm Brook watercourse has been suggested as an opportunity to identify opportunities to improve the habitat using natural management methods. Local schools will be approached with the aim of involving the children in the process.
As the ERA Committee is fully stretched dealing with other local matters, none of its members is able to take on this obviously important though very time-consuming process but, if you are interested in getting involved, we give below the contact details you will need:-
Becky Hibbert, Catchment Co-ordinator – Wey and Loddon Catchments
Email : becky.hibbert@environment-agency.gov.uk
Tel : 02030 259592
Phiala Mehring, Loddon Valley Residents Association
Email : phiala@sky.com
Tel : 07587 185736 / 0118 3484807
Posted 9th October 2016
Neighbourhood Action Group
We are sorry to report that, at a meeting on 20th September, the chairman of the Emmbrook & Woosehill Neighbourhood Action Group stood down and as no volunteers were forthcoming to take his place – or to act as secretary, another post that was vacant – the decision was made to disband the group.
Posted 2nd October 2016
Matthewsgreen Street Names Announced
The names of the first batch of streets on the Matthewsgreen development have been announced.  They include names that have been suggested by local historian (and ERA committee member) Peter Shilham, and they are based on notable local historic figures.  To go to the Matthewsgreen page and see a map off the streets, and to read Peter's commentary on the names, please click here.
Posted 27th September 2016
Problems with Environmental Issues and How To Solve Them – Hopefully!
On our Environmental Issues page we report the story of how frustrating it can be to report simple environmental problems, with multiple agencies passing the buck between each other and leaving the person who is trying to report the matter feeling as if they are banging their head against the proverbial brick wall.  Fortunately our story has a happy ending, as we can now advise residents how they can – we hope – contact a "one stop shop" to achieve a resolution of these issues.  To read the story – and to get the contact details of the agency concerned – please click here.
We will be interested to hear from any residents who use this facility, to learn how they have fared by using the contact we have provided.
Posted 20th September 2016.
Update on Proposed Development at Bell Farm
Readers might recall that ERA was invited by Wokingham Borough Council to comment on the proposals for the above proposed development.  It will come as no surprise to residents that we have taken advantage of this invitation.  An update is given on the appropriate page of this website, but for a quick link to our response please click here.
Emmbrook Sports and Social Club – Planning Application
Following the public meeting in February the Club eventually submitted an amendment to their application which removed the erection of a 1.85m high close boarded fence on the Lowther Road boundary.  This amended application was considered at the Planning Committee Meeting on the 20th July.  The planning officer recommended approval of the application with a set of conditions which were aimed at reducing the impact of the proposal on residents and the area in general, such as limiting the use of the flood lights.  The Committee approved the application as recommended by four votes to one, so we will have to wait to see just how effective these conditions will be.  Anyone interested in seeing the conditions can do so via WBC's "Search Planning Applications" web page by entering Application Number 153382, clicking on "See the plans and documents", scrolling down to the "Decision Notice" and opening file 153382dn.pdf.
Emmbrook Sports and Social Club – Application for a Premises Licence
The application by the ESSC for a premises licence was heard by a sub-committee composed of three members of the full licencing committee on 19th July.  The general public were allowed to speak at the hearing by prior arrangement, as was the applicant.  A resident spoke against the application on behalf of a group of residents who live adjacent to the Club's grounds, as did a representative of the ERA.  The ERA made a case for the imposition of additional conditions that, if the sub-committee was minded to approve the application, would stop the Club holding the types of activities that would be most likely to cause disturbance to residents.  After hearing all from all parties present the sub-committee went into a closed session in order to make their decision.  Unsurprisingly, they allowed the application with no additional conditions, although the Club did make one concession in that they withdrew the application to carry out the licensable activities (i.e. the playing of music, dancing, etc) out of doors.
Wokingham Borough Council – New Web Page
Wokingham Borough Council has introduced a new web page that provides updates on developments in the north of Wokingham.  Of course, we already provide this service ourselves in respect of the Matthewsgreen and  Bell Farm developments, but if you want to see what the council is saying about these and other developments in the area, please click here.
Flooding – Volunteer Representative Sought!
There is a proposal to create area-wide Catchment-based Flood Risk Management groups to work towards reducing the flood risk.  Phiala Mehring of the Loddon Valley Residents Association has been very active in promoting action on this topic in the Loddon Catchment, working with CEH Wallingford (Centre for Ecology & Hydrology) and the Environment Agency etc.  There is a meeting scheduled for September to identify a couple of areas to consider within the Loddon Catchment, including those near the Emm Brook, Barkham Brook, Blackwater, Whitewater etc, to trial this proposal.  Phiala is looking for representatives from experts such as residents, landowners and Local Authorities to join the group in working towards reducing the flood risk in the Loddon catchment.  The meeting on Friday 16th September is at Reading University, 10.30am to 1pm and, if this role appeals to you, please contact Phiala Mehring (phiala@sky.com) for more information.
Work at the Old Forest Road/Reading Road Junction
Many residents will have noticed the activity that has been going recently on at this junction, with men in hi-vis jackets, and vans belonging to the contractor company Gracelands in evidence.  Having enquired what exactly was going on, we have been advised as follows:
"Works currently taking place here are to establish the exact depth and location of the existing stats equipment. As all the stats equipment needs to be relocated prior to the junction works, the main junction works are likely to start either at the back end of the year or early next year dependant on road space and other commitments, we await a programme from the contractors on this."  We have been further advised that "stats equipment" refers to "pipes, fibre-optic cables, phone lines, basically anything buried in the ground."
We will keep you advised with regard to any further information we receive on this subject.
ERA Secretary
Sadly, we have to report that our long-serving secretary, Lesley Dow, will be moving away from the area and, consequently, also leaving ERA.  We therefore need, as soon as possible, to find a new secretary.  If you are interested in applying for this position, please visit the ERA Committee page for a description of the tasks and the skills that are required.
Network Rail Works
In a letter dated 25th May, which was delivered by hand to selected addresses in the Emmbrook area, Network Rail gave advance notice of works to be carried out in connection with the upgrading of the electricity supply for the trains serving the Wokingham to Waterloo line.  These works involve the installation of a new electrical substation on land behind the Emmbrook Sports and Social Club in Lowther Road.  No precise date has been given for the commencement of these works, which are scheduled to take place between the summer of 2016 and early 2017.  Presumably Network Rail will be more specific nearer the time that they are proposing to start work.
Quiz
The quiz closed for entries on Tuesday 17th May and a draw to determine the prize winners took place at the Annual General Meeting on Thursday 19th May.  Please visit the Quiz page to see the answers and to find out who the lucky winners were.
Matthewsgreen Farm Development News
The new housing development on the site of Matthewsgreen Farm is outside of the area currently served by the Emmbrook Residents Association.  However the process of construction, and the additional burdens that the increased population will inevitably impose on the local infrastructure as the new homes are progressively completed and occupied, will undoubtedly impact on the Emmbrook area.  The ERA committee is taking a keen interest in the progress of the development, and doing everything in its power to ensure that the detrimental effects are minimised as far as possible.  This new page brings you the latest news on the development, as it happens and as we are made aware of it.
North Wokingham Distributor Road
Related to the Matthewsgreen Farm development, but also planned to serve other housing developments in the north of the town, the NWDR is intended to convey traffic between the east and west sides of Wokingham.  The most recent news concerning this road will be found by clicking on the link above, which will take you to the Planning Applications page.
We have introduced this page to draw attention to social activities that are being promoted in the local area by both ERA and the neighbouring Joel Park Residents Association.  We would welcome suggestions for future social activities, as part of our efforts to increase still further the sense of community in Emmbrook.