Thames Valley Police
Neighbourhood policing
Crime Statistics
Have Your Say
Reporting crime or problems
Neighbourhood Watch
Crimestoppers
Victim Support
Recent Advice topics
General Advice topics
Thames Valley Police
New Thames Valley Police Chief Constable And Review of Local Policing Areas:
From April 1st Thames Valley Police (TVP) has a new Chief Constable Jason Hogg, based in Kidlington HQ. Previously Deputy Chief Constable , Jason replaces out-going Chief Constable John Campbell. Jason has been in policing for 27 years and with TVP since 2016.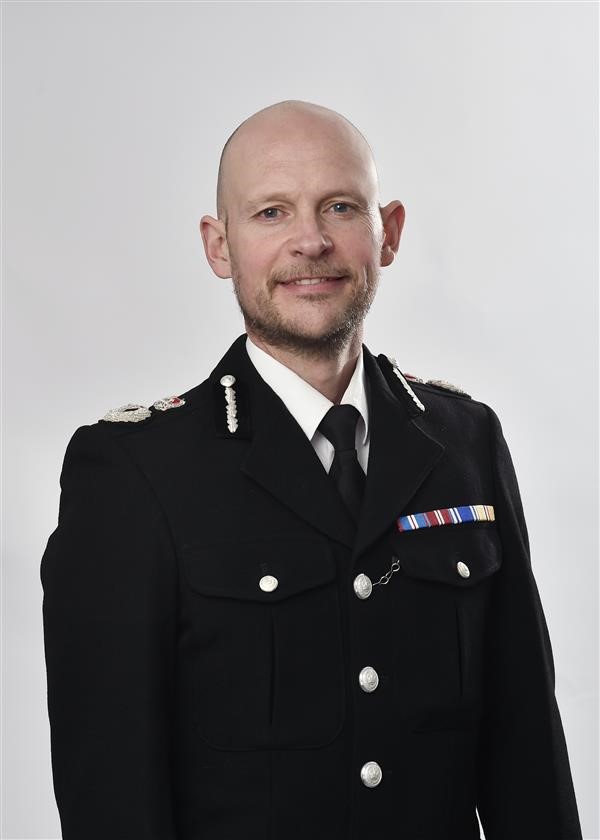 His shared priorities include :
Supporting victims – prioritising response based on seriousness of incident and vulnerability of victim
Fighting crime – with an emphasis on neighbourhood crime, tackling knife crime, acquisitive crime and violence against women and girlsBuilding trust and confidence – trust in national policing is low. Will build trust through treating everyone with fairness and respect. It will be through having greater visibility and increased transparency and engagement with all of our communities.
Review Into The Structure of The TVP Local Policing Areas:
A public consultation online survey into a review of local policing areas is currently underway. The last review was in 2010. Two proposals are being considered:
– retain with improvements the 11 local policing areas (LPA) which include urban Bracknell & Wokingham, Milton Keynes, Oxford, Slough, Reading and Windsor & Maidenhead with rural areas
Or,
– move to a 5 area command model where new Berkshire East area would combine the LPA's Reading, Windsor & Maidenhead and Slough with Bracknell and Wokingham.
Both proposals keep the same number of neighbourhood teams while seeking to increase the number of officers in visible patrol roles.
In 2023 it is recognised a more complex crime environment prevails by increases in digital crime, complex child sexual exploitation and county drugs lines. The aims of the review are :
Strengthen Neighbourhood Policing – by bringing in 80 additional neighbourhood officers funded by the Police and Crime Commissioner (i.e. through Council Tax) and addressing a shortage of PCSO through recruitment and improved incentives for retention long term.
Protect Vulnerable People – by creating a new Harm Reduction Unit to manage the enforcement of Domestic Violence Protection Orders.
Response Times – meaning elapsed time from receipt of a 999 call for police to attend the incident. A 5 area command model means more officers based on neighbourhoods and so could reduce response times.
Further information about these proposals being reviewed by the TVP can be found here
There is an online survey created for local communities to engage in, which closes 28 April 2023.
Neighbourhood policing

Every neighbourhood in the Thames Valley area has a dedicated neighbourhood policing team that works together with the local community and partners to: reduce crime and incidents, bring more offenders to justice, protect the vulnerable and tackle violence against women and girls and improve victim service and public confidence.
Emmbrook is covered by the Winnersh neighbourhood policing team. Find more details on the TVP website.
Neighbourhood policing teams are led by senior police officers and include police officers, Police Community Support Officers (PCSOs), police staff, police support volunteers and the Special Constabulary.
They aim to make communities safer through an approach that is focussed on visibility, engagement, problem solving and community resilience.
You can receive regular updates on local information and incidents in or around your area by signing up to Thames Valley Alert.
Police Support Volunteer (extract from College of Policing website)
Becoming a police service volunteer (PSV) offers the opportunity to do something worthwhile in your spare time, making a real difference to your local police force and community.
What you'll do
The roles performed by PSVs vary hugely within and between police forces. Subject to relevant vetting, you can assist with a wide variety of tasks.
Some of the duties carried out by PSVs include:
manning police station front counters
general administrative work
vehicle maintenance
criminal investigation support
updating victims and witnesses
CCTV monitoring
work relating to the professional skills you already have
There is no minimum hour requirement, but volunteer teams work with PSVs to ensure the role gives the maximum impact, and hours are discussed during the application process.
Skills needed
Each police force advertises roles for which they need voluntary support. If you have skills that you wish to offer the police, contact the force you are interested in to see how they can create a role to maximise the skills you have.
Many police forces welcome university students who are required to spend a year in industry, and can offer unique experiences in a range of business areas.
Eligibility
Anyone over the age of 16 can apply to be a PSV. Volunteers come from all walks of life, each bringing their own skills and specialism.
All applicants must be vetted as they will be directly supporting officers and staff in their roles.
Ways to apply
Visit the recruitment section of the website of the police force you're interested in joining.
The Thames Valley Police Museum
The museum is open on Wednesday mornings between 10.00am – 12.00pm and you can pop along without making an appointment or paying a visitors fee.
The museum is based in the White House at The Thames Valley Police Training Centre in Sulhamstead, Nr Reading, Berkshire, RG7 4DX.
The Museum's collections include displays on the Great Train Robbery and the history of Thames Valley Police.
---
Reporting Crime (999 or 101)?


Use 999 (or text phone 18000) if:
• A crime is happening right now
• Someone is in immediate danger, or there is a risk of serious damage to property.
• A suspect for a serious crime is nearby.
• There is a traffic collision involving injury or danger to other road users.

Use 101 (text phone is available on 18001 101) to:
• Report a crime not currently in progress – for example a stolen car, burglary, or damaged property.
• Give information to the police about crime in your area.
• Speak to the police about a general enquiry.
• Contact a specific police officer or member of staff.
Reporting other problems (Streetsafe)
Streetsafe is a new Police service which allows you to report anonymously a place that makes you feel unsafe for any reason. For example this could be a broken street lamp, drugs paraphernalia lying around, or youths loitering. The information provided is used to identify and target problem areas, taking action to resolve the problem.

It is easy to use, takes less than a minute to submit a report and is completely anonymous.

To use Streetsafe visit either the Thames Valley Police or National Police website.

This is not a crime reporting tool, crimes should still be reported using 999 or 101.
---
Crime Statistics:

Thames Valley Police publish monthly statistics on their website. Check-out the latest statistics and those from previous months for Emmbrook here.
The map covers Emmbrook and includes data for Joel Park and the Emmbrook Place development: it uses data from local forces. The hotspots give only a loose idea of where crimes happened. Actual locations and details of crimes are kept anonymous. Note that not all crimes that occurred can be shown on the map.
---
Have Your Say:

Would you like to have a say on policing in your area?
TVP are looking for members of the public to join Independent Advisory Groups (IAGs) across Thames Valley.

What is an IAG?
An Independent Advisory Group (IAG) is a way for our community to work directly with the police to improve the way we work and the service you receive. Meeting four times a year (usually in the evening), the IAG is made up of and chaired by independent members of the public, supported by officers from local policing teams. IAG members represent the local community, sharing their views on policing issues affecting local people and challenging them when necessary.

Who can become an IAG member?
Anyone who lives or works in Thames Valley can join their local IAG. We encourage people from a variety of backgrounds, ages, races and religions to get involved to ensure the group reflects the diversity of the local community it is representing.

How to get involved
If you are interested in shaping the way policing is delivered in your local area and ensuring your community has a voice please visit our website –
www.thamesvalley.police.uk/activecommunities
---
Neighbourhood Watch Newsletter

Please click here if you are interested in reading the latest newsletter from the Neighbourhood Watch National Support Team. Inside there's lots of advice on keeping you safe, member offers and news on how our members are shaping the future of Neighbourhood Watch.
---
Crimestoppers

Crimestoppers Trust is an independent crime-fighting charitable organization in the United Kingdom. It can be a big decision to give information about crime, Crimestoppers guarantee your anonymity. Crimestoppers operates the 0800 555 111 telephone number, allowing people to call anonymously to pass on information about crime. No personal details are taken, information is not traced or recorded and you will not go to court.

To give information:
By phone: 0800 555 111
Online: https://crimestoppers-uk.org/give-information/give-information-online
---
"Victim First" Support Initiative

This is a service for victims in the Thames Valley who are struggling to cope with the impact of a crime . Victims First is available across Berkshire, Buckinghamshire and Oxfordshire and provides free tailored emotional and therapeutic support to all victims and witnesses of crime, as well as family members of victims (if they require it).

The service allows for one front door for all victims in the Thames Valley who require support and is available regardless of:
• Crime type
• Whether or not the crime has been reported to the police
• Whether they were a victim of a recent or historic crime
• Wherever the crime happened.

Anybody who needs support can access it through:
Tel: 0300 1234 148
Website: www.victims-first.org.uk

You can follow us on Facebook where we have lots of information on crime types, crime prevention and support available:
Facebook: https://www.facebook.com/victimsfirstTV/
---
Recent Advice topics:
Please see below a number of recent police alerts which the ERA has received and feels may be beneficial or of interest to local residents.
Cold callers and doorstep rogue traders (8 Sep 2023)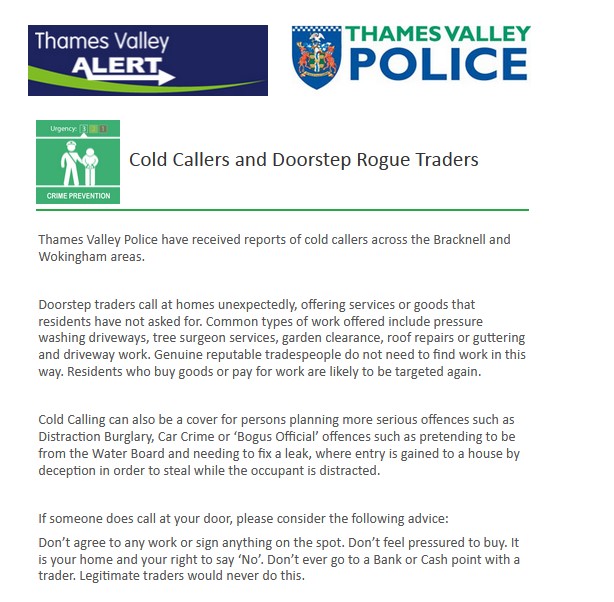 Increase in thefts from motor vehicles (2 Jun 2023)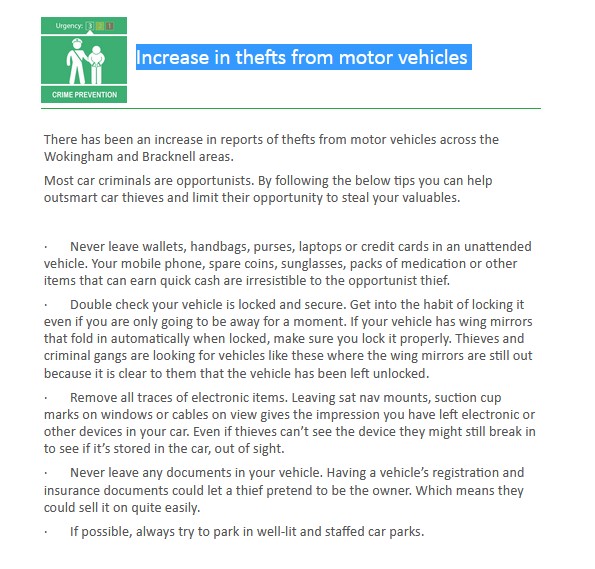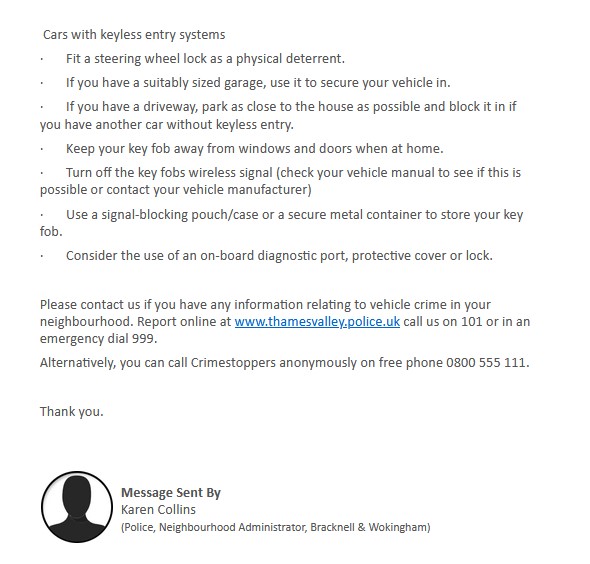 Bogus charity collector (15 Apr 2023)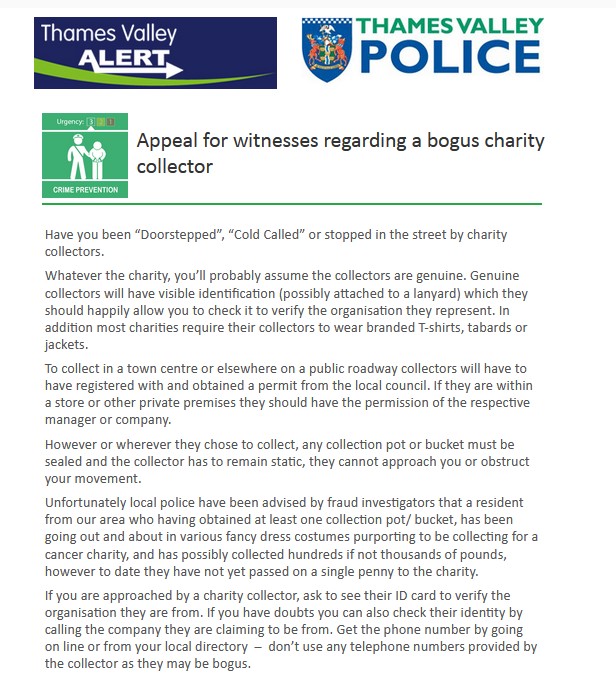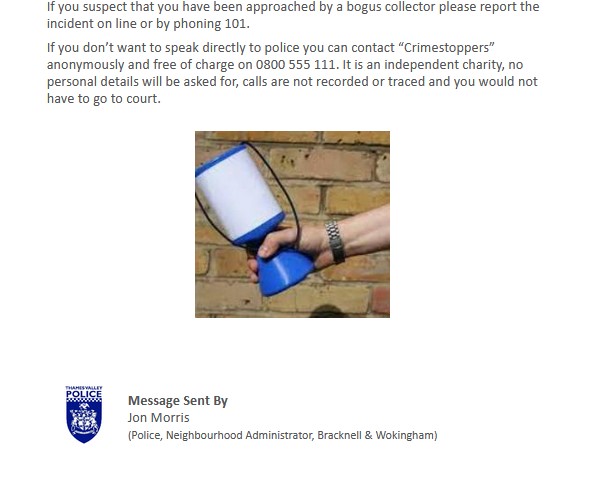 Distraction Thefts (5 Apr 2023)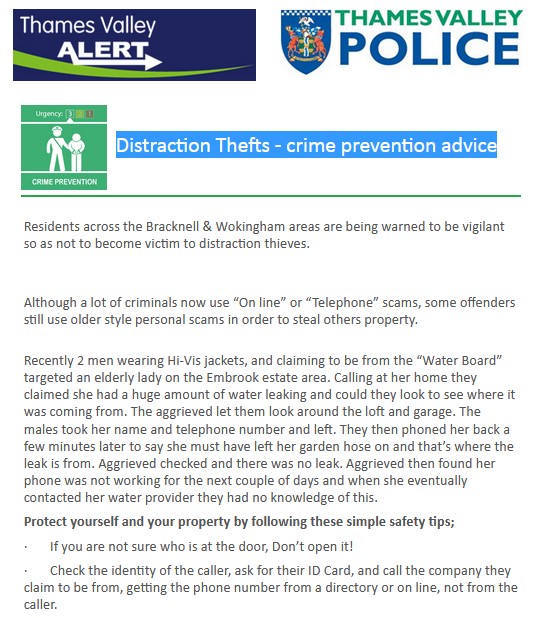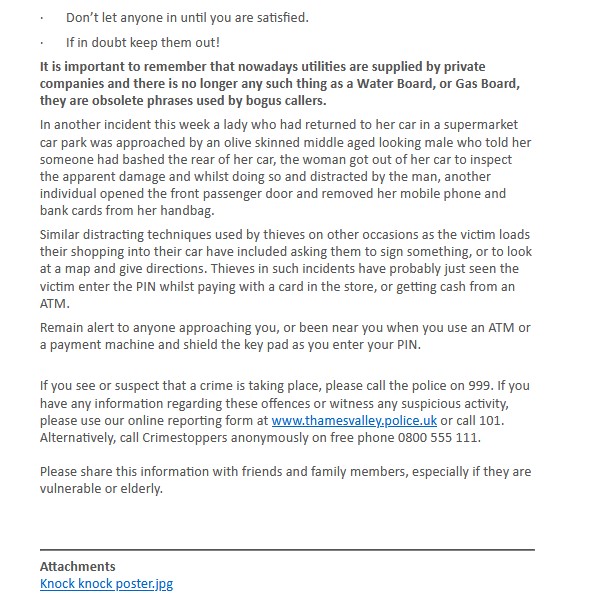 WhatsApp account takeover scam (3 Apr 2023)
Thames Valley Police have recently highlighted a large growth in attempts to fraudulently access WhatsApp accounts. They are recommending people check their security settings to reduce risks. See attached alert which provides details of the scam and how to protect yourself.
Protect yourself when advertising and selling online (23 Mar 2023)
Top tips for online buyers and sellers:
Minimise the personal information you share in the advert such as your address, email or phone number
If you're meeting to exchange items, ensure your safety, take a friend or relative, and arrange to meet in a busy public place
Always log-in to payment providers directly on your device to verify you have received the payment
Always check your account on third-party payment facility to ensure a payment has been cleared before handing over or posting items
You could take images or videos in case of any dispute or theft
If a buyer becomes pushy, aggressive or makes you feel uncomfortable, don't be afraid to block them and report them to the site
Do not use links or websites supplied by the buyer to check for payment, as these can also be forged and look genuine
If you think you have been a victim of fraud you should report it to Action Fraud, the UK's national fraud reporting centre, by calling 0300 123 20 40 or online by visiting www.actionfraud.police.uk.
It's also important to report all fraud-related incidents to Action Fraud to help build a national picture and help prevent others falling victim to scams.
Catalytic Converter Thefts (13 Jan 2023)
During the past couple of weeks there have been several incidents in which Catalytic Converters have been stolen from parked and unattended cars across the Bracknell, Wokingham and Sandhurst areas.
WHAT IS CATALYTIC CONVERTER THEFT?
A catalytic converter is a metal device that sits under cars close to the engine
It helps filter harmful exhaust fumes
It's crucial to the smooth running of a car, and they may be written off without one (insurance also isn't valid without one)
They contain valuable metals like rhodium, palladium and platinum, which it why they're so appealing to catalytic converter thieves
You might hear it referred to as 'cat theft'
It takes less than 60 seconds for thieves to steal a catalytic converter. Blink and you'll miss it.
WHAT ARE THE KEY SIGNS OF CATALYTIC CONVERTER THEFT?
Cars are often jacked up on their sides using a trolley jack.
Thieves use a cutting device (electric saw?) to remove the cats, so the public should listen out for the sound of drilling or cutting coming from under the vehicle.
However thieves may just slide under the car without use of a jack, but this is only usually on high clearance vehicles like the Honda CR-V. In most cases a jack is still commonly used to get enough height for thieves to get under the vehicle to cut the converter away.
CATALYTIC CONVERTER THEFT CRIME REDUCTION ADVICE
To help make your car less attractive to catalytic converter thieves, you can:
Install a catalytic converter-specific security device such as 'ARMACAT' or 'CATLOC' – https://blog.toyota.co.uk/catalytic-converter-theft-how-to-protect-your-car
Make sure your car has an anti-tilt alarm that will go off if the vehicle is physically moved.
Use a property marking kit or consider ID etching. Etching a serial number onto your catalytic converter will help police identify as stolen if recovered after a theft. Overtly advertising that the catalytic converter has been marked (through use of window stickers, for example) can also act as a deterrent, as marked catalytic converters are harder to sell on at reputable scrap metal dealers. You can find more information on etching at www.retainagroup.co.uk
Consider welded bolts for 'bolt-on' catalytic converters to slow thieves down.
Install CCTV that overlooks your car if you park on a driveway or road that can be accessed by cars or pedestrians. · Choose car park spaces that are close to buildings like hospitals and supermarkets, so your car is more visible and suspicious activity more easily detectable.
Keyless vehicle thefts (6 Apr & 28 Jun 2022)
Thames Valley Police have seen an increase in reports of thefts and attempted thefts of keyless vehicles across the Bracknell and Wokingham areas.

Offenders often use a device and a laptop to intercept the signal from the remote sensor on keyless fobs and gain entry to the vehicle. They can then start the vehicle without the key and drive away.

To help prevent thefts and ensure your car is not an appealing target for a thief, we are asking you to be extra vigilant and consider your vehicle security.
Keep key fobs away from windows and doors when at home.
Turn off the key fob's wireless signal (check your vehicle manual to see if this is possible or contact your vehicle manufacturer.)
Place key fobs in a metal tin or signal blocking RFID (radio-frequency identification) pouch and away from the front door. Be aware of where your spare key is located as well and where possible, keep this in a tin or signal blocking RFID pouch.
Always manually check your vehicle has locked before walking away. Electronic devices can be used to jam the electronic signal from your key fob to lock your vehicle. Scan the immediate area for anyone hanging around. If a potential thief who's watching feels they've been spotted, they'll probably move off.
Consider the use of an on-board diagnostic port protective cover or lock.
Consider fitting a steering wheel lock as a physical deterrent.
If you have a garage, secure your vehicle inside.
If you have a driveway, park the car as close to the house as possible.
Look out for your neighbours when they are not home. If you see anything of concern, report it to the police and inform your neighbour.
Changes To Front Counter Provision In Thames Valley (28 Aug 2021)
Thames Valley Police have made changes which affect their front counter services across Buckinghamshire, Berkshire and Oxfordshire.

Thames Valley Police is working to adapt to the different ways in which people contact the police, to meet the changing needs of the diverse communities we serve and to make necessary savings.

There will continue to be good geographic coverage of front counters across the Thames Valley if you need to access one.

The force is retaining front counters at Milton Keynes, Oxford, Reading, Slough, Aylesbury, High Wycombe, Abingdon, Banbury, Newbury, Loddon Valley and Maidenhead. There will be some changes to opening hours.

Front counters at Amersham, Bicester, Bracknell, HQ South in Kidlington, and Witney have now closed. These counters had been temporarily closed since March 2020 due to the global Covid-19 pandemic (with the exception of HQ South in Kidlington, which temporarily reopened following an initial closure). If you usually attend one of these front counters, you will need to seek alternative ways of contacting us.

The changes do not affect police officer numbers nor the number of police bases so you will not experience any difference to officer visibility in your local community.

Further details and front counter opening times are available on our information page.
Using CCTV (1 Oct 2020)
Increasingly residents are considering setting up CCTV in one form or another. This can be of great help to the police. Neighbourhood Watch have advice HERE if this is something you are considering. Please note the section on Use of CCTV in Public Places as this often causes queries.

Police advise against the use of CCTV footage obtained from any source on social media or on any other public distribution, as there is a risk of interference with police investigations.
Thefts from garages and sheds (1 Oct 2020)
There has been an increase in reported thefts from garages across the Wokingham area with many occurring in detached blocks.

Detached garages are often tucked away from the view of passing traffic or local residents, so are often targeted by thieves. When was the last time you visited your garage and ensured the garage door lock actually works? Garage doors are usually light weight and supplied with only a basic type lock that can be forced with a screwdriver or similar bladed tool so could benefit from the installation of additional security locks. Mortice locks or lockable bolts fitted down towards the bottom corners reduce the risk of offenders gaining access by prising the bottom of the door outwards.

Consider security marking and registering tools and other items that you store in your garage so they can be identified at www.immobilise.com. Think about chaining items to secure shelves and installing anchor points to which motor bikes or bicycles can be padlocked inside your garage. Consider installing a battery-operated alarm. They look low key but respond to movement or door contact with an extremely loud siren.
As we go into the winter months please ensure your shed and any outbuildings are secure. Although it might sound like stating the obvious, never leave your shed door unlocked if you are not around. Consider checking that your insurance covers the contents of your shed or outbuildings from theft.

The top five most common items stolen from sheds are: bikes, mowers, sports equipment, power tools & garden tools. It is worth having a good padlock on the door with no exposed screws. Pay attention to hinges, as these are sometimes easily removable. If you have windows then these could be vulnerable unless they are secured with wire mesh or grills. Consider a battery-operated shed alarm. Do not give thieves the opportunity or the tools to commit a crime, lock them inside a locker or box or secure with a chain. Secure your bike to the ground or a lockable stand within a locked shed or garage. It is always worth draping an old sheet or blanket over the top of mowers or bikes to keep them covered from view.
Beware of COVID19 phishing emails (1 Apr 2020)
A number of COVID19 related phishing emails have been reported to Action Fraud. These emails attempt to trick you into opening malicious attachments which could lead to fraudsters stealing your personal information, logins, passwords, or banking details.

https://www.actionfraud.police.uk/alert/coronavirus-related-fraud-reports
Watch out for scam messages
Don't click on the links or attachments in suspicious emails, and never respond to unsolicited messages and calls that ask for your personal or financial details.

Shopping online:
If you're making a purchase from a company or person you don't know and trust, carry out some research first, and ask a friend or family member for advice before completing the purchase. If you decide to go ahead with the purchase, use a credit card if you have one, as most major credit card providers insure online purchases.

For more information on how to shop online safely, please visit: https://www.actionfraud.police.uk/shoponlinesafely

Protect your devices from the latest threats:
Always install the latest software and app updates to protect your devices from the latest threats.

For information on how to update your devices, please visit: https://www.ncsc.gov.uk/guidance/securing-your-devices

For the latest health information and advice about COVID-19 please visit the NHS website.
Protecting isolated and vulnerable during CV19 outbreak (22 Mar 2020)
You will all be aware of the coronavirus (COVID-19) outbreak. Neighbourhood Watch exists to look out for communities across England and Wales and at a time like this we encourage you to consider ways to keep yourself, your loved ones and those in your community safe, particularly the isolated and vulnerable. We are following the advice from the government and encourage you to do the same: https://www.gov.uk/government/topical-events/coronavirus-covid-19-uk-government-response

10 ways you, as a Neighbourhood Watch supporter, can protect yourself, your loved ones and your community:
Meet with household members, other relatives, friends and neighbours to discuss what to do if a COVID-19 outbreak occurs in your community and what the needs of each person will be.
If your neighbourhood has a website or social media page, consider joining it to maintain access to neighbours, information, and resources. Alternatively, share phone numbers and email addresses particularly with those who are isolated or vulnerable.
Consider establishing a 'buddy' system within your community to ensure everyone stays connected to COVID-19 related news, services and can receive support safely, such as essentials deliveries.
Plan ways to care for those who might be at greater risk for serious complications.
Choose a room in your home that can be used to separate sick household members from those who are healthy.
Learn how to self-isolate. Guidance can be found on the NHS website: https://www.nhs.uk/conditions/coronavirus-covid-19/self-isolation-advice/
Create a list of local organisations that you and your neighbours can contact in the event that one of you need access to information, healthcare services, support, or resources. Consider including organisations that provide mental health or counselling services, food, and other supplies.
Create an emergency contact list of family, friends, neighbours, healthcare providers, teachers, employers, the local public health department, and other community resources.
Learn about the emergency operations plan at your child's school or childcare facility, and your employer's emergency operations plan.
Practice everyday preventive actions including regular hand washing.

The NHS provides guidance on how to wash hands: https://www.nhs.uk/live-well/healthy-body/best-way-to-wash-your-hands/.
The World Health Organisation provides guidance on basic protective measures: https://www.who.int/emergencies/diseases/novel-coronavirus-2019/advice-for-public
The Centre for Disease Control and Prevention provides guidance on handwashing for families https://www.cdc.gov/handwashing/handwashing-family.html
Please note: whilst we encourage you to follow advice from UK Government we are also sharing links to organisations such as the Centre for Disease Control and Prevention an agency which works 24/7 to protect the safety, health, and security of America from threats here and around the world. Some of our key points above have been sourced from: https://www.cdc.gov/coronavirus/2019-ncov/community/home/get-your-household-ready-for-COVID-19.html.

The Centre for Disease Control and Prevention also published (14th February 2020) Interim Guidance for Preventing the Spread of Coronavirus Disease 2019 (COVID-19) in Homes and Residential Communities which you may find useful: https://www.cdc.gov/coronavirus/2019-ncov/hcp/guidance-prevent-spread.html.
Beware of burglaries using key safes (22 Mar 2020)
Over the past few months, there has been a series of burglaries and thefts in Sandhurst, Crowthorne and Easthampstead, where key safes have been stolen and used to gain access to properties. Once inside, burglars took car keys, cars, jewellery, money and banks cards.

In order to protect your property, and to reduce the risk of becoming victim to burglary we advise you to:
• Move your key safe in a location that is not easily visible from the road.
• Consider using a further security measure of a bolt or chain to further secure your key safe to the wall.
• Be vigilant for neighbours who have key safes.
• Consider leaving your key with a neighbour.
• Remove your key safe if you do not need it or use it regularly.

Being burgled is a traumatic experience. It's not just the financial cost of replacing stolen items, but also the emotional impact of feeling violated after a burglar has been in your home.

You can reduce the risk of becoming a victim by looking at your home security through the eyes of a burglar. Think about how you would break in if you locked yourself out. You may be surprised at how easy it would be.

To get started, please visit www.thamesvalley.police.uk and download our Home Security Guide which contains a range of physical and digital security measures to protect your home. There is also advice on how to avoid invalidating your home insurance through poor security and a handy checklist when going away.
Chip & Pin fraudsters still active (22 Mar 2020)
Fraudsters have been actively targeting shoppers across Bracknell and surrounding areas, who use either Credit or Debit cards to make payments by way of entering a 4 digit PIN at the point of sale or when withdrawing cash from an ATM or whilst trying to pay for Pay & Display parking using a bank card..

The offenders sometimes appear to be on their own but are likely to be working in small teams. They often target female supermarket shoppers, taking note of the PIN as the victim taps it into the keypad at the till. They then follow the victim out into the car park where they either pickpocket the purse or wait until the handbag has been placed in the car at which time one offender will distract the victim whilst another offender opens the car and steals the purse. The offenders have then simply gone to an ATM at the same store and withdrawn as much cash as they can from the victims account before fleeing. And all before the victim is aware of the theft.

Other offenders interfere with ATMs (cash machines) using illegal devices that retain a victim's bank card once it has been entered into the machine whist recording the PIN as the victim taps it into the keypad. The offenders then later retrieve the victim's card and use it plus the PIN to obtain cash or purchases.
A recent development to this offence has been by offenders who have targeted individuals trying to pay for parking using their bank cards. Again the ticket machine is tampered with and fitted with an illegal device to withhold the victim's card, the fraudster have been dressed in black clothing and purported to be a parking attendant and offering to help, but again obtain the victims PIN and later retrieve the card and withdraw large amounts of cash.

To prevent yourself from becoming a victim of these type of fraudsters remember the Golden Rules of;
– Never letting anyone see what your PIN is
– Never writing your PIN down, and
– Never saying your PIN out loud, to anyone.

No one in any bank ever needs to know your PIN, No Police Officer or other legitimate investigator will ever need to know it, let alone any car park attendant. KEEP IT SECRET!
Secure your bike (22 Mar 2020)
1. Register it
Get your bike security marked and registered at www.bikeregister.com It is a highly effective, visible deterrent to bike thieves. They know that if they are caught with a registered bike, the owner can be traced and they could be arrested.

2. Record it
Remember to record details of your bike such as the frame number (normally found underneath the bike between the pedals or where the back wheel slots in), the BikeRegister number plus any other distinguishing features, and take a photo.

3. Double-lock it
It can take thieves as little as few seconds to cut through some locks, so use two good quality locks, at least one of which is a D-lock.

4. Lock the lot
Lock the frame and both wheels to the cycle parking stand.

5. Secure it
Secure your bike as close to the stand as possible to give any thieves little or no room to manoeuvre.

6. Remove the removable bits
Take parts that are easy to remove with you. Or use locking skewers or nuts which can increase security by securing the bike's components to the frame permanently, making it difficult for thieves to steal detachable parts.

7. Park secure
Lock your bike at recognised secure cycle parking. It should be well lit and covered by CCTV.

8. Remember safety begins at home
Take the same care to lock your bike securely at home as you would on the street.

9. Check ownership
Ask for proof of ownership and check the bike frame number on www.bikeregister.com

10. Act fast
If your bike has been stolen, contact us as soon as possible, give us your frame number, BikeRegister number, a photo and any other details and make sure you update the status on BikeRegister. The sooner we know, the sooner we can act, which might stop it being sold on.
https://stolen-bikes.co.uk can help to spread the word on the theft of your bike and offer you advice to help get it back.
www.findthatbike.co.uk lists adverts for bikes placed on online marketplaces, which you can check frequently to see if yours has been listed for sale.
True Costs Engage Session – Thursday 6 February (Updated 4 Feb 2020)
As part of their "True Costs" campaign, Thames Valley Police will be hosting an online Q&A Engage session on Thursday 6 February between 6 and 8pm. This will provide an opportunity to ask any questions about the impacts of casual cocaine use on Thames Valley and what you can do to help, which can be answered by our officers and partner agencies. Please check the Thames Valley Police social media channels in the coming week for further details of how you can get involved. The Engage site is available here: www.tvpengage.co.uk

For more information on the True Costs campaign, you can visit the campaign webpage.
Dangers of becoming a money mule
Thames Valley Police is urging schools, parents and guardians to warn children about the dangers of becoming a money mule.

A money mule is someone who transfers stolen money through their own bank account on behalf of someone else and is paid for doing so.

Criminals use money mules to launder the profits of their crimes.

Young people are often unaware that acting as a money mule is illegal. They are approached to take part online or in person, including through social media, at school, college or sports clubs.

Spot the signs and follow these tips on how to stay safe:
Make sure your child doesn't give their bank account details to anyone unless they know and trust them.
Tell them to be cautious of unsolicited offers of easy money, because if it sounds too good to be true, it probably is.
Look out for your child suddenly having extra cash, buying expensive new clothes or electronics with very little explanation as to how they got the money.
A young person involved in money muling may become more secretive, withdrawn or appear stressed.

Parents and guardians are advised not to attempt to contact any individual they suspect of organising money muling and should instead contact Crimestoppers anonymously on 0800 555 111. More information, advice and tips can be found at https://www.moneymules.co.uk/
Drivers Targeted With Fake Fines

Action Fraud have received an increase in reports and intelligence where elderly victims are being targeted by individuals purporting to be police officers or traffic wardens. The victims are being approached whilst parked in a car park and are told by the suspect that they have parked illegally or broken a speed limit and a photo has been taken of their car for 'evidence'.

Victims are advised that they will face a substantial penalty fine unless they pay a smaller upfront fee immediately. Victims, who opt for paying the smaller penalty, will be directed to a parking meter and asked to enter their card and PIN. These parking meters have been tampered with by the suspect in order to retain the card.

Once the victim inserts their card and are asked for their PIN, the victims are shoulder surfed for their PIN by the suspect. Once victims input their PIN, the card is retained by the machine and victims are told by the suspect to seek help from the company who operates the parking meter or their bank.
– If you are suspicious about the authenticity of the fine, do not pay it until you have verified it with your local council.
– Always shield your PIN from view when using an ATM machine, and never share your PIN with anyone.
– If your bank card is retained by an ATM machine, contact your bank immediately to inform them.

Online Vehicle Sales Alert – The National Fraud Intelligence Bureau

Fraudsters have been advertising vehicles and machinery for sale on various online selling platforms, this includes vehicles and machinery used by the agricultural industry.

The victims, after communicating via email with the fraudster, will receive a bogus email which appears to be sent by a trustworthy third party, often PayPal or Escrow.

The emails are designed to persuade victims to pay upfront via bank transfer rather than through a protected payment method via the website. The victim pays the deposit before visiting the seller to collect the goods, believing there is a 'cooling off' period to reclaim the payment if they change their mind.

This gives victims the false sense of security that their money is being looked after by this trustworthy third party, when in fact, it is not and the money has gone straight to the fraudster.

It is vital that the public exercise caution when receiving emails or messages of this nature.

What you need to do
– Never transfer money for a vehicle you haven't seen in person.
– Avoid paying for the vehicle by bank transfer as it offers you little protection if you become a victim of fraud. Instead, use a credit card or payment services such as PayPal.
– If you're purchasing from a company or person you don't know and trust, carry out some research first, or ask friends and family for advice before completing a purchase.
HMRC Fraud Alert
Action Fraud has experienced an increase in the reporting of malicious calls and voicemails, to members of the public purporting to be from Her Majesty's Revenue & Customs (HMRC).

Fraudsters are spoofing genuine HMRC telephone numbers to deceive their victims over the phone. The fraudsters state that as a result of the victim's non-payment of tax or other duty, the victim is liable for prosecution or other legal proceedings in order to settle the balance. The fraudsters suggest victims can avoid this, by arranging payment to be made immediately by methods such as bank transfer or by purchasing iTunes gift cards.

If the victim is hesitant or refuses to comply, the suspect makes a threat such as immediate arrest, sending bailiffs to the victim's address or, in some cases, deportation.

Often, the period for which the tax is allegedly due is distant enough to guarantee the victim will have little, if any, paperwork or ability to verify the claims. Once the money is paid the suspects sever all contact with the victim.

In genuine cases, HMRC will initially make direct contact with you via post/letter and potentially follow up that letter with a phone call at a later date.

If HMRC contact you via telephone they will quote the reference number on the initial letter you should have received. HMRC will not discuss something you are not already aware of, like a tax investigation, and will NOT demand immediate payment.

It is vital that the public exercise caution when receiving messages or telephone calls of this nature.

What you need to do

– Always question unsolicited requests for your personal or financial information. Just because someone knows your basic details (such as your name and contact details), it doesn't mean they are genuine. Instead, contact the company directly using trusted methods such as a known email address or phone number.

– Legitimate organisations wouldn't ask you to pay taxes, bills or fees using an iTunes gift card, or any other type of voucher. If you're contacted by anyone that asks you to do this, you're likely the target of a scam

– Don't be rushed or pressured into making a decision. Under no circumstances would a genuine bank or some other trusted organisation force you to make a financial transaction on the spot.

– Report Phishing attempts. If you receive a call, text or email of this nature and have not lost money, you can report this as phishing to Action Fraud.
Courier Fraud, Bogus Police and Bank Officials Alert
Individuals have been receiving phone calls from people claiming to be a police officer or banking official. The suspect will say one or more of the following:
– There has been fraudulent activity at the victims' bank and the staff at the bank are involved, the victim is then asked to withdraw money to either keep it safe or assist the police with their investigation
– A business such as a jewellers or currency exchange is fraudulent and they require the victims' assistance to help secure evidence by purchasing jewellery or exchange a large amount of currency to hand over to the police
– The victims' card has been compromised and used to purchase goods by a suspect, the victim is requested to withdraw their money to keep it safe or hand over their bank card to the police
– Occasionally the victim will be told to dial a non-emergency extension of '161' to receive confirmation of the individual's bogus identity, the bogus official will advise the victim to lie about the reason for the withdrawal or purchase if challenged by staff, as the staff member is involved in the fraud. A courier attends the victim's home address to collect the goods the same day Often the victim is given a code word for the courier as a way of authentication
Your bank or the police will never:
• Phone and ask you for your PIN or full banking password
• Ask you to withdraw money to hand over to them for safe-keeping
• Ask you to transfer money out of your account
• Send someone to your home to collect cash, PINs, cards to cheque books
Recent Scams and Frauds

Residents across the Bracknell & Wokingham Local Police area are being warned to be vigilant to avoid falling victim to fraudsters currently active across the area.

On Thursday 23 May yet another female was targeted by the "supermarket car park distraction thieves". These thieves prey on women who have entered the supermarket with a shoulder or handbag. They follow the victim through the store and will be close by as she enters her PIN number at the till. Having obtained the PIN number two or more of the thieves follow the victim to her car, where they wait until she has loaded her shopping and handbag into her car. They then approach and as one engages the victim in conversation another thief quietly and unnoticed opens a car door and steals the handbag. Once the victim drives away the thieves simply use the stolen bank card and PIN to withdraw cash from a local ATM.
Over the past couple of months these offenders have targeted nearly all of the supermarkets across the area at one time or another.

To reduce the risk of becoming a victim, ensure that whenever you use a "Chip and Pin card" that you cover the key pad as you enter the 4 digit number so that no one can see/ record it.

Another scam that has been occurring quite regularly involves a lone male who knocks at the front door of an unsuspecting resident and asks if they could lend him some money as he has just left his wallet in a taxi that has driven off. Surprisingly many victims have handed over money, possibly believing that the stranger would call back and repay them. The truth is the caller is a con man and no money ever gets repaid.

And it isn't just females or the elderly who fall victim to fraudsters. On Monday 27 a resident in Bracknell who had advertised his car for sale, allowed a man whom he didn't know and had walked to meet him in his road, to sit in his car, and start the engine. Bye bye car….

Protect yourself and your property by following this simple safety advice:

If you are not sure who is at your door, don't open it!
Record and Check the identity of the caller. Ask for their name and an address. Call the company they claim to be from – get the number from a local directory, don't rely on a number the caller gives you.
If in doubt keep them out.
Don't hand over money or allow them access to your property until you are absolutely satisfied who they are.
If you are suspicious call the police on 101
If you have any information about relating to these or any other Frauds/ Scams or you would like to report a crime please contact Thames Valley Police via their On Line Crime Reporting portal or by telephone using 101.

More crime prevention information can be found on the Thames Valley Police website at;
<www.thamesvalley.police.uk/advice/protecting-your-home-and-belongings/>
---
General Advice topics:
Keeping your home safe
keep front and back doors locked, even when you're at home

do not leave windows open, even on upper floors, if they are next to a porch or flat garage roof which can be used to climb up
during warm weather spells, only leave windows open for ventilation when you are in the room and lock them when you leave the house and at night. Window opening restrictors can help you ventilate your home but make sure they cannot be picked and unlocked from the outside
Always double lock doors and windows when going out and at night and when you go to bed
Illuminate your front door with energy saving dusk to dawn lightbulbs that come on automatically

install a video doorbell, house alarm or CCTV system. Ensure you check privacy laws when installing CCTV systems

fit a door chain and spyhole for extra security

keep all valuables and keys out of sight and out of reach of doors and windows

when working from home, ensure laptops and electronic equipment are not on view

store high value items in a hidden saf

e (keep an inventory, photographs, register with www.immobilise.com, and check your home insurance to ensure that it covers keeping high-value items)
mark your belongings and register them for free with Immobilise

fit energy efficient security lighting

don't leave spare keys in obvious places such as under doormats or plant pots

keep items that could be used to break into your property such as ladders, tools and wheelie bins stored safely and ensure

sheds and garages are locked and secure

lock side gates to prevent easy access to the rear of the property

check fencing regularly to keep it in good repair

use pea shingle on driveways or under windows, as it crunches loudly when stepped on

trim overgrown hedges and plants to remove hiding places and improve surveillance

use a timer switch for lights & radio to make your house look occupied, even when it isn't

consider joining or forming a Neighbourhood Watch scheme if you are not already in one

ring the police if you hear the sound of glass smashing – it maybe someone breaking into your neighbours house
Going on holiday. Whether you're going away for a day or a few weeks, you should take steps to make your home look occupied. A dark home in the evenings and uncollected mail is a sign to burglars that no one is home. Before you go on holiday:
cancel milk and newspaper deliveries
set up automatic timer switches to turn your lights on when it gets dark
register for the Royal Mail's 'keepsafe' service
move valuable items out of view of windows
cut front and back lawns and trim back plants
don't discuss holiday plans on social media
ask a trusted neighbour to watch over your home whilst you're away
The police urge residents to remain vigilant and if you witness any suspicious activity please report it to the Thames Valley Police enquiry centre on 101. Together we will aim to reduce the number of victims of burglary.
---
Helping to Protect People Suffering from Dementia
The Herbert Protocol is a form to record key information about a person with dementia. This should be completed by carers or family members in case they go missing. It will help to ensure that the police and partner agencies, including the volunteer search and rescue teams, have the best possible information should someone with dementia go missing and a search needs to be conducted to find them.
Download the form and find out more information about the Herbert Protocol.
---
Crime Prevention Advice
More advice about protecting your home and belongings is available on the Thames Valley Police website: https://www.thamesvalley.police.uk/advice/protecting-your-home-and-belongings/
---
Police Advice for Safe Online Shopping
Thames Valley Police have issued the following guidelines to assist consumers in staying safe while shopping online.
Check the web address
Always check you're on the correct website. Criminals can set up fake websites that have a similar design and web address to the genuine site. Carry out some research first. For example, by checking to see if others have used the site and what their experience was

Is it a secure connection?
Web pages you enter personal or financial details into should display a locked padlock sign and have a web address that starts with https. This means your connection to the website is secure.

Phishing
Don't click on links or attachments within unsolicited emails. The number of online shopping related phishing emails increases significantly during the holiday period.

Email accounts
Use a strong, separate password for your email account. Criminals can use
your email to access other online accounts, such as those you use for online shopping.

Bank transfers
65% of Action Fraud reports during the 2016 Christmas period were linked to online auction sites. Don't pay for goods or services by bank transfer unless you know and trust the person. Payments via bank transfer offer you no protection if you become a victim of fraud.

Scam messages
Some of the emails or texts you receive about amazing offers may contain links to fake websites. Not all links are bad, but if you're unsure don't use the link, go separately to the website. And remember, if a deal looks too good to be true, it probably is.

Payment method
If you decide to go ahead with the purchase, use a credit card if you have one as other payment providers may not provide the same protection.

What to do if you've fallen victim to online shopping fraud

We all make mistakes and these days the scams can be incredibly convincing.
If you think you've visited, or made a purchase on, a bogus website, you should first, take a note of the website's address, then close down your internet browser. You should then report the details to Action Fraud and contact your bank to seek advice.

Whether you've been a victim of fraud will depend on how much information you've provided to the website, so keep an eye on your bank transactions, if you can. Contact your bank immediately about anything that you don't recognise, even small amounts.