ERA is always keen to promote events that contribute to community spirit in the locality.  Any suggestions for social activities to involve the residents of the Emmbrook area will be welcomed.
Quiz Night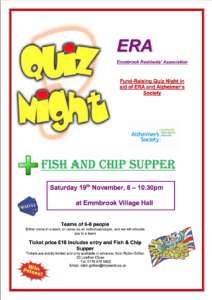 The last quiz night at the Village Hall on Saturday 17th November 2018 was a great success, with 69 people taking part in ten teams.
We raised over £1000 in tickets and raffle sales, with £140 donated to the Alzheimer's Society and around £350 profit towards ERA fundraising.
After a hiatus, largely due to COVID19, we are hoping to get back to our regular quiz night in October 2023.