The purpose of this page is for it to be an electronic community noticeboard for anything taking place in Emmbrook which you would like to tell residents about, so it will be as good as you make it!  Events at the village hall, the pubs, the schools ……
Small print:
(a) If we don't think something is suitable for our site we will tell you why
(b) If you are a local business wanting to publicise your services, we would request a donation to ERA funds, please.
YET ANOTHER NEW DEVELOPMENT IN EMMBROOK?
We have just received a letter from a company called Remarkable Engagement, who represent a developer by the name of Ashill, who have "recently acquired an interest" in the Hewden Hire site in Old Forest Road. We will meet their representatives, hopefully with ward councillors, and will report further. Our initial view is that we do not want even more development in the area, and that this is a most unsuitable location for more houses given the additional traffic it would generate next to the railway bridge and at the Old Forest Road/Reading Road junction.
Please click here if you wish to see the full text of the letter from Remarkable Engagement.
FORTHCOMING ROAD CLOSURES
Wokingham Borough Council have given notice about two forthcoming road closures that will affect drivers in Emmbrook.  They are as follows:
From 9.30am on Monday 11th April until 1.00pm on Saturday 16th April, Matthewsgreen Road will be closed between its junctions with Clifton Road and the A321 Twyford Road.
From 9.30am on Monday 18th April until 1.00pm on Saturday 30th April, Toutley Road will be closed between its junctions with Matthewsgreen Road and Emmbrook Vale.
A MESSAGE FROM THE EMMBROOK SCHOOL
Many residents will already be aware that Nigel Matthias, the Head Teacher at The Emmbrook School, is shortly to retire.  We have received the following message from Mr Matt Sutherland, the HEAD of KS3 Achievement at the school:
"As you will be aware, we are in a period of transition here at Emmbrook while we await the arrival of our new head teacher. During this period of transition, I have been asked to take on the role of Standards Lead in order to ensure that we maintain an atmosphere and ethos of respect and positive behaviour. We are aware that the school plays a prominent part in the nature of the local community and I am keen for the community to look on us as an asset to the area.
"In response to feedback from local residents, we have had a clearer staff presence around our immediate vicinity at the end of the school day while our students disperse. We are extending this duty to the mornings before school in order to maintain good order as our students arrive with us.
"Should you have any questions or concerns involving the school or its students, please do not hesitate to contact me, either by email or on extension 295 at the school."
Mr Sutherland can be contacted by email at MSutherland@emmbrook.wokingham.sch.uk, or by telephone on 0118 978 4406 Ext 295.
SCOUTS PREPARED TO SERVE TEA AND CAKE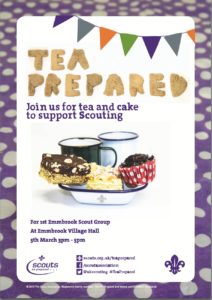 There were cakes galore at the Emmbrook Village Hall on Saturday 5th March thanks to a massive tea party.  Members of the 1st Emmbrook Scouts held their first-ever Tea Prepared event, offering tea, cakes and fun to visitors.
The event raised money for the troop's activities and also for Dementia UK.
Clare Meldrum, who helped organise the event, said, "We thought it was a worthy cause to support.  Parents made cakes – one cake has a scouting badge on it and the red velvet cake has been very popular."
With acknowledgements to The Wokingham Paper, in whose pages this article first appeared.
BOGUS EMAIL ALERT!
(Posted Friday 5 February 2016)
This is not a local matter – more a national one, but it is something that local residents need to be made aware of.
We have been notified that a fake email has been circulating, purporting to be from Royal Mail, with the subject matter "Your Package Has Been Seized" 
The text of the message reads something like:
Royal Mail is sorry to inform you that a package addressed to you was
seized by HM Revenue & Customs upon arrival into the United Kingdom.
A close inspection deemed your items as counterfeit and the manufacturers
have been notified. If your items are declared genuine then they will be
returned back to you with the appropriate custom charges.
You may have been a victim of counterfeit merchandise and the RM Group UK
will notify you on how to get your money back. Please review the attached
PDF document for more information.
Document (RM7002137GB).Zip
Please accept our apologies for any inconvenience this may have caused.
To help the spread of the virus, the email also says, "you will need to have access to a computer to download and open the Zip file".  If you receive one of these mails, do not click on any links or download any attachments.  Simply report it to Action Fraud.
Most people will know that the file extension ".zip" has no relationship to ".pdf", so the computer-savvy recipient will probably beware of a message such as this.  What might not be so well known is that .zip files are among the favourite methods of spreading viruses, and it is a good policy never to open a .zip file unless you are sure of its contents, or (if you receive it by email) you are confident that you can trust the sender.
EMMBROOK SPORTS AND SOCIAL CLUB
Following the public meeting in February the Club eventually submitted an amendment to their application which removed the erection of a 1.85m high close boarded fence on the Lowther Road boundary.  This amended application was considered at the Planning Committee Meeting on the 20th July.  The planning officer recommended approval of the application with a set of conditions which were aimed at reducing the impact of the proposal on residents and the area in general, such as limiting the use of the flood lights.  The Committee approved the application as recommended by four votes to one, so we will have to wait to see just how effective these conditions will be.  Anyone interested in seeing the conditions can do so via WBC's "Search Planning Applications" web page by entering Application Number 153382, clicking on "See the plans and documents", scrolling down to the "Decision Notice" and opening file 153382dn.pdf.