ERA is always keen to promote events that contribute to community spirit in the locality.  Any suggestions for social activities to involve the residents of the Emmbrook area will be welcomed.
Quiz Night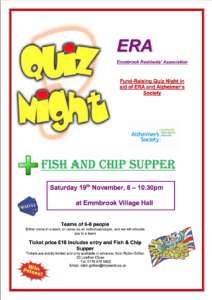 The quiz night at the Village Hall on Saturday 19th November 2016 was a great success, with 64 people taking part in nine teams.  Quizmaster Andy put together a great quiz as usual, there were well over 20 raffle prizes and we managed to sell £166 of raffle tickets.
Subject to fine tuning, we made a clear profit of something like £350 and that was after giving our Quizmaster £100 towards the Alzheimers Support Group he is associated with. We also gave Andy £15 from the "heads and tails" game for the Alzheimers Group so he was delighted.
Joint Event with Joel Park Residents Association
For several years the Joel Park Residents Association has held an annual party in the Park, and last year the Emmbrook Residents Association joined in for the first time.  This year's party was held on Sunday 5th June and was attended by more than 200 people.  We will continue to support this event in future years.
THE JPRA/ERA JOINT EVENT AT JOEL PARK IN JUNE 2015
Quiz Night
Our annual Quiz Night took place in the Emmbrook Village Hall on Saturday 14 November, and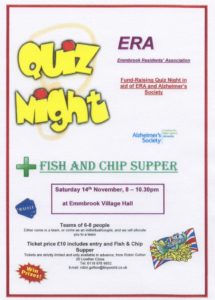 as usual it was a great success, with those taking part having a lot of fun.  There was a raffle, with prizes donated by local people, and the evening included a fish and chip supper.  In all, 57 people took part, in nine teams, and the evening resulted in approximately £260 being raised towards ERA funds, and a contribution of just over £100 being made to the local Alzheimer's Society.
As always, quizmaster Andy Howell, ably supported by his wife Kirsty, provided an excellent, varied and interesting range of questions.  Thanks are also due to Robin Gofton, a former member of the ERA committee, for all the work he put in by producing and distributing the tickets.
Table-Top Sale
ERA ran a table-top sale at the Emmbrook Village Hall in March 2015.  The tables were actually over-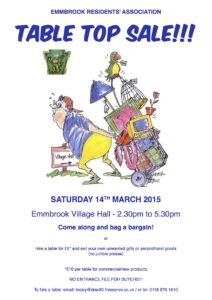 subscribed, in that all available places were pre-sold, and we had a waiting list
of people who would have liked to take tables and who were hoping that somebody else would drop out and make room for them.  As it happened, although the event was well-publicised in advance, with flyers being posted through every door in Emmbrook, and posters being put up in various locations around the area, very few people actually came along to buy anything.  In view of the amount of effort that had been put in both by the vendors and by the ERA committee, this was a disappointing outcome.  In spite of that, most of the vendors have told us that they would come again if we were to organise a similar event in the future.
We are considering repeating the event, but if anybody has any ideas as to how we might ensure that the second attempt proves more successful than the first, we will be pleased to hear from  you.