Disbandment of the Emmbrook & Woosehill NAG
We are sorry to report that, at a meeting on 20th September 2016, the chairman of the Neighbourhood Action Group stood down and as no volunteers were forthcoming to take his place – or to act as secretary, another post that was vacant – the decision was made to disband the group.
Background information about Neighbourhood Action Groups
Neighbourhood Action Groups (NAGs) are a Government initiative rolled out by the Police to address community safety issues through Neighbourhood Policing and local resident involvement: they are a key part of Neighbourhood Policing in Thames Valley Police area.
A NAG is a multi-agency, problem-solving group that consists of relevant partner agencies, key stakeholders and, most importantly, members of the local community.  NAGs focus their work around the main priorities that are identified after consultation with the local community.  Members, who are all volunteers, take on responsibility for achieving certain tasks on behalf of their neighbourhood.
The Emmbrook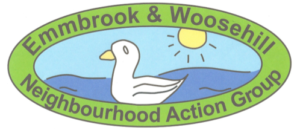 and Woosehill NAG was made up of Thames Valley Police, representatives of both Borough and Town Councils, local organisations (including ERA) and individual local residents.  The purpose of the NAG was to help solve community safety issues, reduce crime and disorder, and help to bring about a greater sense of reassurance and community spirit.
The Emmbrook and Woosehill NAG worked in partnership with Wokingham Borough Council and Thames Valley Police to address neighbourhood concerns, e.g. anti-social behaviour, litter, traffic issues.  Members of the NAG were a conduit through which local issues concerning the whole community could be addressed.
The Emmbrook & Woosehill group could, no doubt, be resurrected if residents were interested in taking part in it.  If you would like to find out more, please email Paul Gallagher, chairman of Emmbrook Residents Association.